Office of the Governor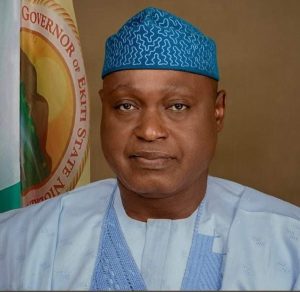 Profile of the Governor
Hon. Abiodun Abayomi Oyebanji was born on December 21, 1967, in Ikogosi-Ekiti, and  served as the Secretary to the Government of Ekiti State. He began his academic journey at Baptist Primary School, Ikogosi-Ekiti.
He attended Awo Community High School before transferring to C.A.C. Grammar School, Efon-Alaaye, Ekiti State in 1979, and later attended the Federal School of Arts and Science, Ondo State, and the District Commercial Secondary School, Aramoko-Ekiti from 1983 to 1985.
He acquired a Bachelor of Science (BSc.) degree in Political Science from the Ondo State University (now Ekiti State University, Ado-Ekiti) in 1989 and continued his quest for honours at the University of Ibadan, Oyo State in 1992 where he bagged his Masters' Degree (M.Sc) in Political Science (International Relations & Strategic Studies). Oyebanji started his professional career as a Lecturer at the Department of Political Science, University of Ado Ekiti, where he worked for four years (1993 – 1997) and later proceeded to work as Manager, Treasury, and Financial Services at the defunct Omega Bank Plc (now Heritage Bank) till May 1999. Oyebanji is engaged in the Agribusiness and is the chairman of Con Dois Farms Ltd.
As a successful businessman and a devoted public servant, Abiodun Oyebanji has earned many awards including the Distinguished Alumnus Award by the Alumni Association of the then Ondo State University, Ado-Ekiti, and the Certificate of Excellence awarded by the National Association of Political Science Students (NAPSS), Ondo State University, Ado-Ekiti. Writing the history of politics and governance in Ekiti State is incomplete without mentioning the critical contributions of Abiodun Oyebanji.
He was Special Assistant (Parliamentary Affairs) to the Governor of Ekiti State (8th June 1999 – July 2000); Special Adviser (Parliamentary Affairs) to the Governor of Ekiti State (1st Aug. 2000 – Sept. 2001); Chief of Staff to the Governor of Ekiti State (September 2001 – May 29, 2003); Chairman, Governing Board, Citizenship and Leadership Training Centre, Federal Ministry of Youth and Sports Development (June 2009 – December 2010); Commissioner, Ministry of Integration and Inter-Governmental Affairs, Ekiti State (23rd December 2010 – December 2011); Head, Office of Transformation Strategy and Delivery (OTSD), Ekiti State (December 2011 – 9th January 2013); Commissioner, Ministry of Budget, Economic Planning and Service Delivery, Ekiti State (10th January 2013 – 16th October 2014); Secretary, Ekiti State Government (16th October 2018 – Till date). Oyebanji was instrumental to the creation of Ekiti State in 1996 as he served as Member, Committee for the Creation of Ekiti State, and Secretary, Committee for the Creation of Ekiti State (1996). He was also Secretary, Ekiti State Development Fund.
Vision and Mission
MY VISION AND MISSION
"My vision is for Ekiti State to be a land of prosperity, opportunity, peace and progress. A land in which transformed people and communities can reap the fruits of their labour in dignity, good health and safety. A land of honour where integrity matters.
Structure
Structure:
The following are the various sections in the department:
Office of the Chief of Staff
Office of the Permanent Secretary
Office of the State Chief of Protocol
Administration and Supplies
Finance and Account
Protocol
Government House Administration
Government House Infrastructure
Affiliated Agencies
Office of Her Excellency.
Office of the Chief Press Secretary.
Functions
Ensuring the welfare of His Excellency, the Governor and his immediate family.
Receiving, accommodating and feeding of State Guests at Chalets or hotels;
Accompanying His Excellency, the governor to Official and Social functions within and outside the state;
Procurement of befitting gifts for State Guests;
Arrangements and Ad-hoc parties and State banquets;
Compilation and adherence to protocol list;
Maintenance of vehicles and capital assets in the Government House;
Ensuring that the Government House environment is kept clean and tidy;
Maintaining discipline of staff;
Extension of Government hospitality to indigenes and friends of the state during festivities like Christmas, Ramadan etc.
Political Appointees
| Name | Designation |
| --- | --- |
|   | Chief of Staff |
|   | Chief Press Secretary to the Governor |