Profile of the First Lady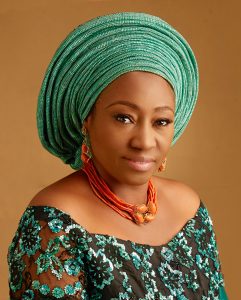 Bisi Adeleye-Fayemi is a Feminist Activist, Gender Specialist, Social Entrepreneur, Policy Advocate, and Writer. She has a BA (1984) and MA (1988) in History from the University of Ife, Nigeria (now Obafemi Awolowo University). She also received an MA in Gender and Society (1992) from Middlesex University, UK. 
She co-founded the African Women's Development Fund, (AWDF) – the first Africa-wide grant-making foundation for women, and served as the first Executive Director from 2001-2010. She is currently Principal Partner, Amandla Consulting, specializing in leadership development for women, and she runs an online community called Abovewhispers.com. She was until recently, a UN Women Nigeria Senior Advisor, and is a Visiting Senior Research Fellow at the Africa Leadership Center, King's College, London.
She serves on the Executive Boards of the African Women's Development Fund, and the Global Fund for Women USA where she chairs the Program Committee. She is Chair of the Advisory Council of the Nigerian Women's Trust Fund, a member of the Advisory Board of the State Partnership for Agriculture (SPA) of the Synergos Institute, a member of the Advisory Board of the HID Awolowo Foundation and also serves on the Governing Council of Elizade University, Nigeria. She holds a PhD (Honoris Causa) in Sociology from the Tai Solarin University of Education, Nigeria. 
Bisi is the author of 'Speaking for Myself': Perspectives on Social, Political and Feminist Activism in Africa (2013), 'Speaking above a Whisper', (2013) an autobiography and 'Loud Whispers' (2017). She also co-edited 'Voice, Power and Soul', with Jessica Horn (2008) a compilation of images and stories of African Feminists. She is married to Dr Kayode Fayemi, the Governor of Ekiti State.
Policy and Advocacy
HE Erelu Bisi Fayemi is a Gender Specialist and Policy Advocate. She has used her office to advocate for laws and policies in Ekiti State: The Gender Based Violence Prohibition Law (2011), Ekiti State Gender Policy (2011) the Gender and Equal Opportunities Law (2013) and the HIV Anti-Stigma Law (2014). She is currently involved in the following advocacy initiatives:
Implementation of the GBV Law of 2011

: As Chair of the Management Committee for the implementation of the GBV Law, HE is dedicated to ensuring that this very important legislation continues to protect vulnerable citizens from all forms of violence and abuse. In addition,

HE continues to advocate for the rights of children and against harmful traditional practices such as widowhood rights that undermine the rights and well-being of widows.
Gender and Vulnerable Persons Unit

(GVPU): With the support of the Ministry of Justice, Ekiti State, there is a GVPU based in the office of HE, coordinated by a Lawyer and a team of dedicated volunteers who help citizens in distress (mostly women but not exclusively) through timely interventions.

HIV/AIDS Awareness

: As Chair of the Ekiti State AIDS Control Agency (EKSACA) HE lends her voice to HIV Awareness, prevention and treatment efforts in Ekiti State.

Keep Girls in School Campaign:

This new advocacy initiative of HE Erelu Bisi Fayemi, is aimed at creating awareness and mobilizing resources to ensure that girls stay in school for as long as possible.

Anti-Female Genital Mutilation

: HE is currently involved in activities to remove Ekiti State from the list of States with a high prevalence of Female Genital Mutilation. Using a combination of community sensitization, awareness raising and economic empowerment activities, HE provides support to the Ekiti State FGM Task Force.

Cancer Prevention and Healthy Living

: HE is a passionate advocate for cancer prevention and healthy living, using her various networks and platforms to promote these issues wherever she goes, as well as organizing regular screenings for women. In October 2013, HE's Ekiti Development Foundation worked with the Ekiti State Government to establish the Funmilayo Olayinka Diagnostic and Well-Being Center at the Ekiti State Teaching Hospital.

Open-Defecation Champion

: In a partnership with the Ministry of Infrastructure and Utilities, HE is an Advocacy Champion against open-defecation, again trying to minimize this practice in Ekiti State.
Community Development
HE Erelu Bisi Fayemi has initiated a number of projects to provide support to people under the auspices of the
Ekiti Development Foundation
. They include the following:
Social Welfare Fund

: This is a monthly disbursement program that provides financial assistance to people for medical bills, school fees, rent and other urgent needs. The target beneficiaries are widows, unemployed people and those who are incapacitated in various ways.

Small Business Development

: This is another monthly disbursement program which provides grants for economic empowerment to serious minded women and young people who have identified business opportunities but might not be eligible for a bank loan.

Multiple Births Trust Fund

: This is a project in collaboration with the Ministry of Women Affairs and Social Development. It provides financial and product support to poor families with multiple births and long-term investments for families with triplets and above.

Elderly Outreach Program

: HE has an elderly outreach initiative which involves paying occasional visits to elderly citizens across the State. HE also has a Food Bank initiative for the elderly known as

Ounje Arugbo

which distributes food packages to elderly people in need across the State.
Leadership Development
HE is involved in a number of projects to provide leadership development opportunities for women and young people in Ekiti State and beyond. 
Forum of Spouses of Ekiti State Officials

(FOSESO): This network was established by HE in June 2011 and reactivated in 2019.

Forum of Women in Leadership

(FOWIL) Ekiti State: This is a forum for women holding positions in the Ekiti State Government for mutual support and peer learning

Young Women in Politics:

This is a network of young women in politics in Ekiti State. Members of FOSESO and FOWIL are meant to serve as mentors to the young women in politics.

Above Whispers:

In 2016, HE established the Above Whispers Media Group and the Above Whispers Foundation. The AWMG runs the news, information and social justice focused website

Above Whispers

, where HE writes her famous weekly column known as

Loud Whispers

. Her weekly articles are syndicated in national newspapers such as Vanguard, Daily Independent, The Sun and Daily Express. Proceeds from HE's books

Speaking Above a Whisper

(2013)

Speaking for Myself

(2013) and

Loud Whispers

(2017) are donated to the

Above Whispers Foundation

which supports women's leadership development activities.
Arts and Culture
HE is a tireless supporter of the Arts and Culture community. She provides technical support to the Ekiti State Council of Arts and Culture, and she has been responsible for bringing several Ekiti talents to the limelight. She is the Global Ambassador of Africa Fashion Week London, and is well known for her love and promotion of African textiles. She is currently committed to promoting the mat weaving and pottery industries in Ekiti State, as well as reviving the indigenous cloth weaving industry.