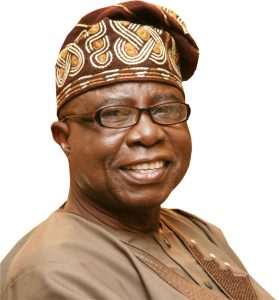 Otunba Adebisi Adegboyega Egbeyemi was born on 8th May, 1944 in Ado-Ekiti to the family of Late Pa. Michael Egbeyemi Alade and Late Madam Tinubu Egbeyemi. He attended St. Saviour's Primary School, Ado-Ektiti from 1952 to 1957; Holy Trinity Anglican School Ilawe-Ekiti (1958) and Baptist School, Ado-Ekiti (1959). He later attended Harding Memorial Secondary Modern School where he obtained his Modern School Certificate in 1962. In 1963 he learnt typing and shorthand at a private institute in Ado-Ekiti.
He studied privately while he was a Laboratory Assistant at Ekiti Parapo College, Ido-Ekiti, 1965, and when he was a Bursar at Notre Dame Grammar School Usi-Ekiti from 1969 to 1972 during which he passed his West Africa School Certificate Examination as a private student and both G.C.E. 'O'Level and Advanced Level Examinations. He later proceeded to the University of Lagos College of Education where he read Biology and Physical Education and passed with Distinction in Physical Education. He taught Biology briefly at St. Mary's School, Ikole-Ekiti in 1975 before he was transferred to the new Divisional Teachers' College Oye-Ekiti as the Pioneer Physical Education Tutor between 1975-1977. He read Law at the University of Ife (Now Obafemi Awolowo University) from 1977-1980 and was at the Nigerian Law School Victoria Island, Lagos between 1980-1981 where he obtained his Barrister at Law Certificate and was called to the Bar in 1981 as a Solicitor and Advocate of the Supreme Court of Nigeria .
Otunba Bisi Egeyemi right from his youth has always been a leader. He was Health Prefect in his Primary School and at the Modern Secondary School in 1962. He was President of the Physical Education Students Association of the University of Lagos College of Education, Akoka Lagos (1974-1975). He was President of the Law Students Association, University of Ife 1978-1979 session. He is married to Chief (Mrs.) Funke Egbeyemi. They are blessed with children.
WORKING EXPERIENCE
Laboratory Assistant at Ekiti Parapo College Ido-Ekiti (1965-1968).
Account Clerk at Notre Dame College, Usi- Ekiti (1969-1970).
Bursar at Notre Dame College, Usi-Ekiti (1970-1972).
Biology Teacher at St Mary's Girl Secondary School, Ikole-Ekiti (June to Sept . 1975).
Physical Education Tutor and Pioneer Physical Education Master at Divisional Teachers Training College, Oye-Ekiti (1975 October to August 1977).
Director, Owena Motels, Ondo State.
Director, Odua Investment Company Limited (2010-2014).
Legal Practitioner from 1981 till date.
POLITICAL EXPERIENCE
Unity Party of Nigeria: Youth Leader in Ekiti 1978-1983.
Honourable Member, Ondo State House of Assembly (1983).
Executive Chairman, Ado-Ekiti Local Government (1991-1993).
Leader, UNCP Ado-Ekiti Local Government (1996-1997)
Founding Member of Alliance for Democracy (AD).
Won election as Member of the Federal House of Representatives in 1998 (which was cancelled by the General Abacha regime)
Commissioner for Education, Ekiti State (1999-2002).
Member, Governing Council of National Teachers Institute, Kaduna (2001-2002).
Commissioner for Justice and Attorney General, Ekiti State (2002-2003).
Foundation Member and Leader of Action Congress, Ado Local Government (2008-2010).
Deputy Governor, Ekiti State (2018 till date)
PUBLICATIONS
Teaching Physical Education
Physical Education Tests
AWARDS
Merit Award of Law Society, University of Ife (Now Obafemi Awolowo University) 1979.
Best Chairman of all Local Governments in Ondo State (1992).
Fellow of Nigerian Youth Organisation.
Award winner of Knight of Equity, Faculty of Law, University of Ife (Now Obafemi Awolowo University)(1979).
Award as the Best Commissioner in Ekiti State (2000).
Award of Omoluabi Ekiti State (2000).
Merit Award of the Federation of Ekiti Students Union (2002).
Chieftaincy titles in 14 towns across Ekiti & Ondo States.
Traditional title of Otunba of Ado Ekiti.
Justice of Peace by Ekiti State Government (2002); amongst others.