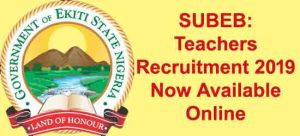 Application forms for the recruitment of teachers into Public Primary Schools in Ekiti State are now available online. Only holders of National Certificate of Education (NCE) and University Degrees in Education are qualified to apply.
Prospective applicants with the above qualifications should visit the website: http://www.ekitistate.gov.ng/jobs to access the forms and other relevant information about the recruitment exercise.
Prospective applicants should fill and submit the forms online between Wednesday, 14th August and Friday, 23rd August 2019.
Applicants should print the acknowledgment slip on the last page of their forms. These acknowledgement slips should be presented by applicants during the qualifying examination which will hold at a later date.
Last modified: August 14, 2019