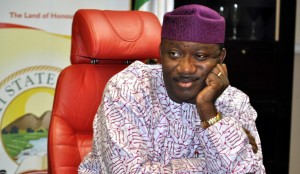 All communities in Ekiti state have been touched in one way or the other by the administration of Dr. John Kayode Fayemi.  From road revolution; in the recent past, what we have seen has always been much ado about nothing where noise was made about road construction without much to show for it. However, when the administration of Dr. Fayemi came on board, the roads in Ekiti had almost become impassable due to the shoddy jobs the successive governments before him did except for the enduring ones that the government of Otunba Niyi Adebayo put in place. Fayose's regime had good ideas on road construction but with bad execution. The illegitimate period of Oni would have been better in terms of road construction but it was eventually turned to a mere façade. Ado township roads became an eyesore.   We saw more of the vehicle bearing the inscription of road revolution than the actual construction.It even became worrisome when some of the road projects became death trap such as Itawure- Okemesi. Unfortunately, what we witnessed then was road project abandonment.
However, when the forward looking government of Dr. John Kayode Fayemi came, construction of roads moved from a mere inscription on vehicles. There were no more cosmetic road projects witnessed under Fayose nor  do we have cases of abandoned road projects. The quality of these roads became unprecedented. Going to the Educational Sector, there is Operation Renovation of All Schools (ORASE) where virtually all secondary schools in the state have been renovated and furnished with chairs and lockers and computers provided for secondary school teachers and students alike.  Fayemi's government is the first in the history of EKSU that will release CAPITAL fund to the University since inception.
Provision of water, a basic amenity, has been  a priority of the Fayemi  government. Oke-Ila community in Ado Local Government which has been neglected by successive government now enjoys water; pipes are being laid on daily basis to those areas without pipe borne water. Ado Ekiti, the State capital has street lights. This transformation has been incredible. No wonder a Doctor of Linguistic at the University of Zaria who once taught at EKSU, when came visiting late last year said, "Fayemi took Ekiti from nothing to everything…" Today, the same gesture is being extended to the other major towns in the state; Ikole, Ikere and Ijero as the contracts for their transformation has been awarded.
On tourism, it is on record that Bermuda, is depending solely on tourism for its survival. Fayemi, a well travelled governor no wonder transfers his wealth of experience garnered in his sojourn abroad to transform Ikogosi Warm Spring to a cynosure. Ikogosi is another wonder of Fayemi's administration, what other previous administration before did to no avail has yielded a bountiful harvest under this visionary leader who knows his onions. Welfare package for the Elders is another area that cannot be forgotten in a hurry. The Social security scheme for the elderly people t has been instituted.  Under him Ekiti gets her own Laws.
Fayemi's government became the first government to domesticate FOI Law in Nigeria.
In the area of industrialization and commerce, today, the moribund Ire burnt brick has been resuscitated, Orin farm settlement is receiving a new lease of life just within the period of two and half years of purposeful leadership of Fayemi who has embarked on new investments drive. The ongoing first class Civic Centre at Fajuyi would serve as a means of getting returns to Ekiti coffers in the nearest future and complement the effort of the government at reducing the rate of unemployment to the barest minimum in the state. The ongoing state Pavilion at the new Iyin Road, Secretariat, Ado is another means of generating employment and funds for the state. Other good works of Fayemi can be seen in the following areas: introduction of EKSMA to ameliorate hardship of the youths and instill sanity on our roads; agricultural project  at Orin farm settlement,  revamping of Oodua Skills Acquisition Centre for small and medium scale enterprise among others. Gov. Kayode Fayemi God's gift to mankind.
By Aribasoye, a former Student Union leader at EKSU
This article was first published in The Daily Independent
Last modified: June 25, 2013