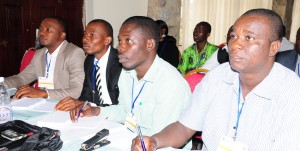 The maiden edition of the Ikogosi Graduate Summer School (IGSS) organised by the Ekiti State Government ends tomorrow. For the 50 pioneer graduate students, it has been a rich experience.They came hungry for knowledge; they are leaving charged to face the rigours of researches they must undertake to become successful scholars.  KOFOWOROLA BELO-OSAGIE reviews the two-week programme.
They came hungry for knowledge. Many had questions about how to navigate the fast flowing and deep river of scholarly research – questions that had plagued their theses, stalling their completion; questions their supervisors and teachers back in their schools neither had the time nor patience to answer.
Many of their questions were answered during the two-week Ikogosi Graduate Summer School (IGSS), which ends tomorrow at the Ikogosi Warm Spring Resort, in Ekiti State.
The IGSS was initiated by Ekiti State Governor, Kayode Fayemi in collaboration with two Nigerian-born scholars, Dr Wale Adebanwi of the University of California, and Dr Ebenezer Obadare of the University of Kansas, both in the United States, to expose young scholars to the nitty-gritty of conducting and reporting research; publishing in reputable international journals and writing to attract funding.They also learnt about gender issues, literature, society and culture, political economy, globalisation and international finance and other areas of interest in the arts, social sciences and humanities.
The uniqueness of the programme was the use of seasoned Nigerian scholars teaching abroad as facilitators. They worked with some of their counterparts at home. Wife of Ekiti State governor Mrs Bisi Fayemi, also took part in the exercise. She spoke on the "Theory and Practice of Feminism in Africa." The Chief Consultant to the United Nations Economic Commission on Methodology in Afirca, Prof Oka Obono, handled how to determine the right methods to use to research social problems.
One of the government's objectives in floating the programme is to reverse the brain drain syndrome by leveraging on the expertise of the scholars, particularly those whose talents have only benefited foreign students in the past because they do not work in Nigeria.
The 50 participants, who are Masters and PhD students of Ekiti origin, were selected from various universities, notably the University of Ibadan, which had 17 participants. Others came from the Obafemi Awolowo University, Ile-Ife, Osun State (8); Ekiti State University (7) University of Lagos (6); National Open University of Nigeria (3) University of Benin, Ahmadu Bello Un
Last modified: June 30, 2013