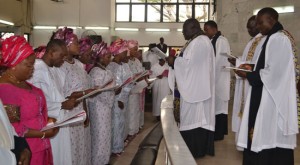 Christians have been urged to make Jesus Christ their number one companion as they journey through life as He alone can help them still the storms of life and take their ship of life to a safe harbour.
Venerable Yemi Agbelusi of the Anglican Church of Ascension, Opebi, Lagos renewed the call in his homily at the Outing Service for the late Deputy Governor of Ekiti State, Mrs. Funmilayo  Adunni Olayinka, held at the Anglican Church of Ascension, Omodara Street,  Opebi,  Ikeja, Lagos.
The cleric said there was no accident or coincidence in the life of a child of God as all that happens to a Christian, either good or otherwise, are ordained and allow by God either to test his faith in Him or teach him a lesson of life.
Venerable Agbelusi who is the vicar of the church which the late Deputy Governor was attending with her family until her death admonished the husband, Architect Lanre Olayinka and his daughters not to let the painful death of Mrs. Olayinka dampen their faith in God nor let it reduce the zeal with which they serve him.
The man of God who recounted his first encounter with the late Mrs. Olayinka years back said he was proud to be associated with her while she was alive and even more now that she was gone with the kind of glorious burial given to her and other things he saw and heard about her when during the burial ceremony in Ado-Ekiti.
He advised the husband of the deceased and his children to be strong in faith, take solace in the comfort of the Holy Spirit and move closer to God as they look forward to the second coming of the Lord Jesus Christ when all who lived and died in Christ like late Mrs. Funmi Olayinka will meet again.
Speaking to journalists after the service, Venerable Yemi Agbelusi commiserated with Governor Kayode Fayemi, his wife and the Ekiti State government and commended them all for organizing a befitting funeral for the late Deputy Governor.
He urged the governor not to be deterred by the death of his highly respected and loyal Deputy but be courageous and move on so that he will be able to accomplish the dreams and aspirations of a better and glorious Ekiti they had conceived together.
Last modified: April 28, 2013