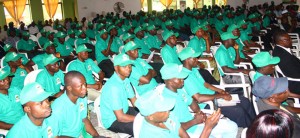 The Youth in Commercial Agriculture Development Progra-mme, YCAD of the Ekiti State government has turned aro-und the fortune of the state in terms of employment generation, according to the Agriculture Commissioner, Jide Arowo-safe. He spoke with SINA FADARE 
How did you achieve the production of about 27,000 birds with less than N20 million?
That programme is one of the units of the Youth in Commercial Agriculture Development Programme, (YCAD) of the state government. We have expandable loan resources for the youth farmers in the state to develop according to their capacity. Each participant under that programme is entitled to a minimum of N1.5 million that is expandable based on performance. You can extend it to N50 million to N100million if you keep on performing.
Under this programme, each one of them is expected to have a minimum of 2000 broilers; it can be increased to 5000, depending on your ability to increase your stock. We monitor their managerial and technical capability and the challenges they are facing. Your stock can be increased if you are performing well and the higher each one of them goes, the more the government would assist them.
We started with 1,000 birds each, later we increased it to 2,000 since majority of them can cope with it.  Some can also cope with 3,000 broilers. We would continue to increase it until they become commercial frontline farmers in Nigeria with adequate monitoring and constant evaluation. That is what we have as our vision, focus and aspiration.
How have you been handling the marketing aspect?
Marketing is a very critical aspect of the value chain, therefore before you run your commercial production you must have fixed up the marketing aspect. There are two windows that will blend before one can say that a business is sustainable. The first one is to work out aggressive market outlet for their product Again as part of the training they have under the managerial aspect, they themselves should be ready to look for markets for their product.
They must learn the nitty-gritty of marketing their product. We also invite private institutions to pick their live birds and take them to their own factory to process. We have another set of YICAD marketers who were basically put together to market all the agricultural products from the YICAD family and buy kit off them, add value to them by processing and selling them. That is the latest layer of this operation. These set of young marketers have a set mind on how to market the entire products within the family, add value into them and get them to the end buyers.
How far have you gone in using the programme to provide employment opportunity for the teeming youths of the state?
Almost two years on, we have been able to touch all the value chains of most commodities in the state. We have been able to raise the youth to be self employed along the line. For instance the youth that are doing processing, that platform has been set; it is left for them to be doing it on their own. Along the line apart from the YICAD participants, the multiplier effect of workers they are engaging daily in their activities is impressive.
Two days ago, l went to one of the pen farms, l was impressed that majority of the YICAD participants engage nothing less than four to five people, you can now see the multiplier effect, and we have about 450 YICAD participants. You can see that it is not only the civil service that provides employment opportunity; this agricultural initiative of the government is equally doing same.
That is just in production alone, we have the marketing and the processing section which also engages its labour directly in the market. Soonest now the layer section of the production will receive its first batch of birds, so before the end of the year, a lot of employment opportunities might have been created. You can see that the policy of the government to make agriculture as the hub of employment generation is achieving a desirable achievement.
The beauty of it is that those farmers that are into arables like cassava, maize and   rice engage more labour during the time of harvesting, they engage nothing less than 10 to 20 people at a go. Let me give you an example, each of the arables, like cassava, as a YIDA participant you have 15 hectares of cassava plantation which is massive under the two cycles that we brand now, for you to spray a hectare, in one operation with hand pump, you will need at least three to four people. To do harvesting, you will engage about 20 to 25 people to a hectare of cassava plantation in order to fill a 40 tons vehicle.
As I am talking to you we are going to spend about 420 days to harvest the cassava we have on the field, if we go by the calculation of about 40 to 80 tons of cassava leaving Ekiti each day, if you multiply 20 people doing a hectare, you can see the turnover in terms of employment generation. So harvesting about 200 hectares of cassava, you can see what is happening in the state and you can now see why the government said agriculture will be the hub of employment generation.
If you look at the rice and Aqua culture it is the same story. Last year we did only production in this area, but now we have added processing. You can get more margin as a farmer if you process what you have. The multiplier effect of this is massive.  That is why the governor said he has fulfilled his mandate to the people of the state in terms of employment generation and is taking the state to the next level on this, so that we will soon become a model for other states to follow.
This articles was first published in The Nation
Last modified: January 22, 2014