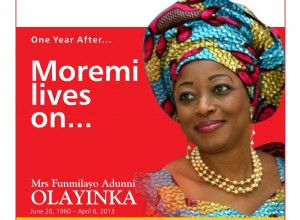 Until the loss of my younger brother Chuzzy in March 2005, I could easily describe myself as a victim of Thanatophobia; a phobia associated with the fear of death.
This is a relatively difficult phobia. Most persons in their tweens are afraid of the noun death. I was always scared of attending funeral programmes especially of close relatives; the entire funeral lilt of hymnals and processions were all sour realities that gave me nightmares long after the burial. Age has however opened my eyes to a life that transcends this space called earth.
The sad reminder that it is already one year Mrs. Funmi Olayinka, the Deputy Governor of Ekiti commenced her eternal journey easily draw tears to my eyes, but when I ponder what her exit meant in the totality of what life constitutes, I feel consoled.
Regrettably however is that since after she had gone, many more women are still falling to cancer.  Breast cancer is currently held as the most common cancer in Nigeria. "One or two in every 25 Nigerian women are said to be at risk of breast cancer, but higher risks exist for women who are older than 45 or older than 30 at birth of their first child, and women with family history."
In the below 5 leadership lessons of Funmi Olayinka, I summarize some of the lessons and values I learnt from her while she lived.
Lesson 1:  It pays to always look good and feel good at all times
Funmi believed that looking good and feeling good go hand in hand. If you have a healthy lifestyle, your diet and nutrition are set, and you're working out, you're going to feel good. This was her life. Her dress sense and elegance were true to her belief and background as the daughter of a famous and successful textile dealer. Right from her days in United Bank for Africa (UBA) when I first met her serving as the Vice President of Association of Corporate Affairs Managers of Banks (ACAMB), Funmi radiated such self-confidence and dress sense that no matter how short or skewed a meeting is designed to be one would often find himself asking, ''so madam what do you think'' such was the magnetic aura she exuded as a corporate executive.
Lesson 2: Focus Primarily on the Masterbrand rather than the product brand
The master brand is a metaphor for the big picture which could oftentimes be obscured by the momentary distraction of its appendage product. Focusing on the big picture she always reminded us is essential to achieving the ultimate goal.
Focusing on the big picture enabled her to endear herself to people regardless of notions and ethnic colouration.
The ease with which she was able to form a formidable force with the wife of the Governor Mrs Bisi Fayemi was amazing. I recall soon after their swearing- in on October 2010 I had asked her ''how do you intend to cope with the Governor's wife, whom I had distantly reckoned as equally radiating the qualities of an alternate Deputy Governor'' Funmi had replied in such pleasant declaration suggestive of warmth and confidence, ''Egg head, you don't know her too well''. Indeed in a rare show of hand holding Mrs Funmi Olayinka and Mrs Fayemi, were such tour de force working fiercely to elevate womanhood through sponsorship of gender equity based legislations.  That was indeed the big picture.
Lesson 3: Always invest in others and give them opportunities to Excel
Funmi learnt very early the gains of grooming and empowering leaders rather than delighting in rented followership.  She invested so much in people and expectedly reaped from same.
She believed that by investing in team members you are able to create multiple folds of leaders. Our team in UBA was a ''do it now'' squad which made compelling impact in the early days of brand consolidation in 2005. Later on in  Ecobank's Brand and Communication division, Funmi attracted a fascinating bunch of professionals : Ola Akinnola, Bolaji Okusaga who soon after left to lead the Quadrant PR team, Shade Obioha, equally joined Funmi as her Chief of Staff until her demise. Also in the team were: Austen Osokpor and Frank Ofem the duo who held on the media and internal communications beat from the rear.  Through Funmi's well nurtured leadership virtues she earned willing loyalty and support from every member of the team.
Lesson 4: Always put in positive words for those who do good
Good deeds must be publicly shared and acknowledged because the world will always respond to what they see, hear and touch. Funmi reminded us to always put in good words in favour of that particular staff, employee or colleague who works hard. According to her, by putting in kind words for such persons, you may have helped in generating greater goodwill for the person. This could perhaps make that delayed promotion happen. Funmi demonstrated that quality whilst she lived, and equally made giving a way of sowing seed in people's lives.
Her ability to be entrusted with several roles otherwise solely managed by state chief executives in many other states were testimonial to her character and competence as a trusted ally to the Governor rather than a spare tyre.
Lesson 5: Always take all phone calls seriously and return as much calls as you can''
Funmi made communication the cornerstone of building effective relationships. From this singular habit, she derived immense goodwill from friends, families and the media whom she interacted with in her several years' experience in banking.
Funmi will always call to keep tap on her friends and their families including domestic staff. She would celebrate friends' birthdays, attend funerals and child dedications. As Deputy Governor, of Ekiti state, Funmi neither changed her phone number nor outsourced her phone calls to her aides as it is common practice amongst politicians.
Her weekly sms text of biblical quotes to her friends soothed our hearts. Even close to death bed after her trip in from London in October 2012, Funmi had on the heels of a media report that she had resigned on account of suffering from cancer managed to put calls across to some of her friends comforting them that all was well. At every opportunity Funmi found value in engaging the hearts and minds of people around her.  According to her, "communication is a therapy"
No one can question the will of the Almighty for taking Funmi away. We do not pretend not to know the torturous pain her family is going through since her passing; when the memorial carnival of the motely mourners is drowned by the grief of silent tears of loneliness
Funmi had a humble nature, spirit of forgiveness, dedication to duty, accommodation of friends and loved ones, her gift of gorgeous simplicity drew her to everyone and endeared her in the eyes of all that were privileged to be part of her life. Her soft- spoken voice and beautiful smile were infectious and perfect remedy for calming fiery tempers in the atmosphere of tension.
Her faith was stronger than her fears as it was evident throughout her struggle during the liberation of Ekiti and later fight against breast cancer. She bore the scourge of cancer with courage and never betrayed signs of defeat nor surrender.
My three children Chiemerie, Olamide and Onyinye continue to ask me about aunty Funmi; they  no more hear the phone calls seeking to speak to  ''my girls'' nor  get the packets of  biscuits which come in different shapes, flavours and sizes.
I console Governor Kayode and the wife Aunty Bisi for loosing such a pathfinder when the work is unfinished. I will once again remind Mr Governor that he was quite lucky to have had Funmi serve Ekiti people when she did; having acknowledged himself that Mrs Olayinka was exemplary in all respects.  One hopes that the Funmi Adunni Olayinka Cancer Diagnostic and Wellness Centre when completed will wipe the tears of Ekiti people especially for those who may be afflicted by the scourge but living in denial
The husband, Uncle Lanre and the three daughters: Lolade, Lamide and Yeside, will continue to share in the enduring consolation and grace which only God gives.
To the living octogenarian parents, Mr and Mrs Famuagun, I will simply console you in the exact signature words of your daughter, "It is well"
It is indeed well with the departed soul of Mrs. Funmilayo Aduni Olayinka, the Moremi Ekiti .
The Lord knows best!
By Nduneche Ezurike
Nduneche Ezurike is a Communication Specialist and Research Panellist of the Harvard Business Review Advisory Council
This article was first published in ThisDay Newspaper on 5th April, 2014.
Last modified: April 5, 2014