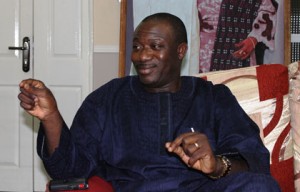 Ekiti State Governor, Dr Kayode Fayemi has described as untrue the rumours making the rounds that he owns a university in Ghana and that he has increased tuition at the State University (EKSU), Ado Ekiti.
The Governor who cleared the air on the rumours in an interview with journalists after attending a mass at the St Patrick's Catholic Cathedral, Ado- Ekiti, on Thursday, explained that he neither owns a University anywhere in the world nor has intention to establish one, contrary to the rumour that he has founded the varsity with funds from the coffers of Ekiti State government.
Governor Fayemi who said that the rumour is being peddled by the opposition in order to curry favour from Ekiti people by deceiving them, stressed that the pre-election period is usually characterized by lies and cheap blackmail aimed at smearing the image of a candidate that is loved by the people.
He urged the people to always investigate claims by the opposition concerning his government, saying that he is ever ready to give them the truth of matters, adding that he runs a transparent and accountable government.
"I don't have a university anywhere in the world and I don't even intend to have one. Instead I am picking up a lecturing job at EKSU come next session. My name is important to me. I am a Catholic and as someone who takes the holy communion, I won't do anything that will desecrate this state and the Catholic Church", he said.
Speaking further on the purported claim that government has increased tuition fee in Ekiti State University, the Governor said the rumour is a clear ignorance on the part of the peddlers who do not know that the school management does not review fees in the middle of an academic session.
Fayemi added that rather than increase school fee, the university management is planning a downward review of tuition in some departments.
On the alleged non-payment of pension and gratuity, the Governor said the non completion of some processes by some pensioners is responsible for the delay in payment of  gratuity to some category of pensioners.
Fayemi who stressed that government does not owe pension stated that government has instead increased pension by 6 per cent  in order to help the pensioners meet the economic realities of the present time.
Earlier in his sermon, Revd Father Pius Adelusi called for a free and fair poll in the forthcoming governorship election in the State, saying that this is the only way to improve on the development currently being experienced.
Adelusi stressed that though some politicians may dole out crumbs to the people, real development comes from a government put in place by the people.
While lamenting the various tragedies befalling the country, the clergyman urged Nigerians not to lose hope but increase their prayers for its redemption.
Last modified: April 17, 2014