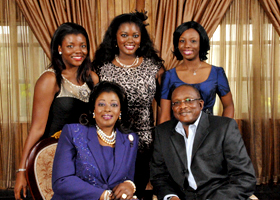 Ask her father and he will be quick to answer you that he never once thought she would go into politics. She was the quiet type as a child. So, he ruled out the possibility of her embracing partisan politics.
Her children too thought she was joking when she first told them she was going into politics.
One of them, the late Mrs. Funmilayo Olayinka recalled in a 2007 interview, said: " Mrs. O (that is what they call me when we are playing) are you really sure of what you are saying?"
When she told her last child, Lolade, she rolled from the staircase down in reaction.
She said: "My other child said it is impossible. One of them went further to remind me that there are no good roads in Ekiti, regular power supply, basic infrastructure and the taps don't run always. But I told her it is so in Lagos too. My last child looked at my husband and said, 'daddy, your wife said she is going into politics.' My husband told her that there was no problem since we have prayed and discussed it. He further enjoined them to pray and encourage me. My children laughed when they saw my pictures and that of Dr. Fayemi on the internet and I educated them that one of the best things they can do is to serve their community. My husband was initially bothered and he reminded me that he has always supported me in all I do and he reassured me then that he would always support me."
So, Yeside, the first daughter, Olamide, the second, Lolade and their father, Lanre, the Abeokuta-born architect, stood by their mother all through the political and health struggles that followed her foray into politics.
Despite her tight schedule, she played the balancing role.
She said of how she was able to balance her home and her political engagements: " I believe as a woman we are naturally balancers. We can do lots of things at the same time. Whenever I am in Lagos, I make sure I visit my daughter in school. As for my husband, he often goes around with me when duty permits him because he has to also attend to his business in Lagos. When I am not here most times I do the cooking before I travel, and I preserve it in the refrigerator so that whenever he wants to eat, he warms it. I must also note here that my husband is a very good cook and he loves cooking a lot. When he is not there with me, he is here to earn a living for all of us."
She dated him for eight years and they were married for over two decades.
They were just like siblings. They met in the United States, fell in love and Lanre was not reluctant to dump his Muslim background when her parents insisted on it.
She said: "I grew up in a very strict Christian home; my father will have nothing to do with the other religions. Then you dare not have a friend from another religion. When my father knew that I was dating a Muslim, he was against it; it took us so long before my father gave us his consent. My husband agreed to all the terms my parents laid down; he accepted to become a Christian. He told them that all he wanted was me and that he can go to any length because of that. We met in America not wearing religion on his forehead; he is from a Muslim background and attended Christian school; maybe that partially influenced him to become a Christian. For me, it wasn't an issue. This may be because we were abroad, if we were both at home, people might have discouraged us from day one. Before we got married, it was a very big family issue. People were appealing to my father. When everything seemed not working, I stepped in and things worked out fine. His relatives are not fanatical, they went with us to church and they performed all the normal Christian wedding rites with us. It was a big deal but we were able to cope. My husband at the initial marital stage would stay at home while the kids and I will go to church, he was neither a Christian nor a Muslim but eventually one thing led to another and he met with the Lord through his friends. He is more Christian than most of us who were born Christian and he now believes that Christianity is the best way of life."
Even in the heat of her illness, the late Mrs. Olayinka still tried to be a mother to her three daughters. In December 2011, she brought them home from the U.S. for holidays and took them to see the Calabar Carnival. Last December too, she brought them home and also took them to Dubai for holidays.
Now, the woman they fondly called Mrs. O is no more to take them on such trips. Her husband too will have to live with the reality that his wife of over two decades, who cooked sumptuous meals for him and stood by him, has gone to the great beyond.
Perhaps the memories of the good times they had and the tighter bond they developed since her battle with cancer began in 2009 will be useful here.
Last modified: April 28, 2013