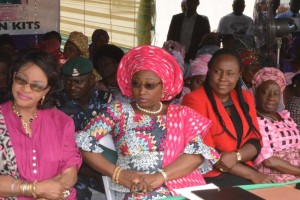 Wife of Ekiti State Governor, Erelu Bisi Fayemi, has advised Nigerian women against visiting herbalists and religious centres for diagnosis and treatment of breast and other gender-specific cancers.
She gave the advice during the launching and distribution of 32,000 units of Breast Self-Examination kits to officials of the 16 Local Governments of the state at the Funmi Olayinka Diagnostic and Wellness Centre, Ado-Ekiti, on Tuesday. The project was a joint effort of the Office of the Wife of Governor and the Association of Local Governments of Nigeria aimed at creating greater awareness around breast cancer.
The governor's wife emphasized the need for self examination of breasts by women for early detection of lumps; while she also encouraged husbands to remind their wives. The event witnessed practical demonstration of the use of the kits for breasts self examination and how to improvise with soap and water where not available.
Erelu Fayemi stressed that breast cancer could be easily treated when detected and presented early at a standard health institution.
Erelu Bisi Fayemi said, "If you observe a lump in your breast, please don't go to the nearest herbalist, don't go to the nearest worship centre for a solution. And don't ignore it. Don't carry your Bible and say 'it is not my portion'.
"The amount we need to examine ourselves at any standard health facility like the Funmi Olayinka Diagnostic and Wellness Centre is negligible compared with the money we spend on aso ebi during social engagements.
"For those of you that believe in the saying that what you don't know cannot hurt you, I must tell you that what you don't know can actually kill you."
She pledged to partner ALGON to sponsor grassroots women for diagnosis of breast, cervical and other gender-specific cancer, as well as lipid
test at the Funmi Olayinka centre through her initiative, the Ekiti Development Foundation to reduce cancer-induced deaths in the state.
The Commissioner for Health, Prof. Olusola Fasubaa, disclosed that the Dr. Kayode Fayemi-led administration had committed over N100m in support of citizens suffering from one form of cancer or the other.
The Commissioner, who was represented by the Permanent Secretary in the ministry, Dr. Folakemi Olomojobi, said nine women have already been supported to undergo cancer surgery from the fund.
The Commissioner for Local Government, Mr. Paul Omotosho, promised to ensure that the local government administration effectively distribute the kits to Ekiti women, backed with adequate awareness and sensitization.
Last modified: February 26, 2014