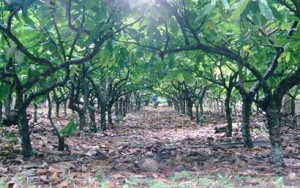 Cocoa farmers in Ekiti  State have agreed to patronize State Government commissioned and accredited Agricultural  input suppliers
to avoid buying substandard Agrochemicals.
The State President of Golden Cocoa Growers Association, Mr. Rufus Agada who  made this known after a   meeting with accredited input suppliers and  officials of  the Ekiti State Ministry of Agriculture and Natural Resources in Ado – Ekiti   said, this was necessary to avoid buying adulterated Agrochemicals other farming inputs .
He assured the State Government of the farmers' implicit confidence in the Fayemi led administration saying the support of the Governor for the Agricultural sector since he came on board cannot be quantified.
In his remarks , the Commissioner for Agriculture and Natural Resources, Mr.  Babajide Arowosafe  who said the purpose of the meeting was to identify genuine Agrochemical and the outlets through they can be obtained  advised the farmers to form  formidable cooperative societies  through which they can  obtain  soft loans with which they can easily finance their farming activities.
He  thanked cocoa farmers for their understanding and  assured them of Government's continued support.
The Commissioner who promised them that ADP officials would do more extension work this farming season on the proper ways of applying fertilizers and other agrochemicals  urged them to follow instructions given to them by the agricultural extension workers .
He informed the farmers  that, the Growth Enhancement Scheme (GES) initiated by government  was still on course saying that, they need to go to
their various redemption centres to collect their subsidized inputs now that the meeting has afforded them opportunity to identify genuine
Agrochemicals and their levels of potency.
Last modified: July 24, 2012