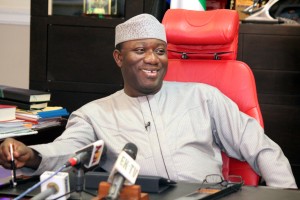 With his spirit of sportsmanship atypical of the average Nigerian politician, the country sure needs more of a Kayode Fayemi in its quest for an egalitarian society, writes Ojo M. Maduekwe
"Following the gubernatorial election held in the Land of Honour, Ekiti State, Nigeria, the Independent National Electoral Commission (INEC), has officially returned the candidate of the Peoples Democratic Party (PDP) as the winner of the election. If indeed this is the will of the Ekiti people, I stand in deference to your will. If the result of the election is an expression of the voice of our people, we must all heed your voice."
It can be seen from his state broadcast a day after the June 21, Ekiti State gubernatorial election, outgoing Ekiti State Governor, Dr. Kayode Fayemi was never a seat-tight governor; he was never a do-or-die politician like many past and present politicians in Nigeria. Fayemi, before his moving speech wherein he conceded victory to the candidate of the Peoples Democratic Party (PDP), Mr. Ayodele Fayose, had always had an open-mind towards the outcome of the Ekiti election.
In an interview with THISDAY shortly after he declared his intention to seek re-election, Fayemi said, "the election in Ekiti is about Ekiti people and Ekiti people should be left to decide for themselves whether their governor who is seeking a re-election has earned the trust of the people. And if he is defeated on that basis, then, I think it's a free and fair and credible process that must be transparent to all."
A man of honour, Fayemi indeed kept true to his word following the election which many thought was free and fair.
"The INEC oversaw a credible, efficient process and by all accounts, the result reflected the will of the Ekiti voters. The security forces collaborated effectively and provided a safe and secure environment free of major incidents.
"The parties and their supporters acted responsibly during and after the election, and the magnanimity exhibited by all candidates afterwards speaks highly of them and the people of the state." The US said this through a statement from its diplomatic mission in Abuja.
Although during his campaign, Fayemi did attempt at selling his candidacy by attacking fellow contestants, he also was clear on the need for Ekiti people to choose their leader from a pool of options.
In the same THISDAY interview, he said of other candidates: "If you read my letter which has been widely available in newspapers, I was very specific about my own attitude to declaration; I was also very specific about the necessity for all flowers to bloom, in order for us to get a democratic process at the end of the day."
Call him whatever name, where many Nigerians concur is that Fayemi has always been a different kind of politician. Some have come out to say after the Saturday election that he was a governor ahead of his time.
Even within his party, the All Progressives Congress (APC), Fayemi is different. The opposition leadership and majority of its members believe that to unseat the PDP at the centre, then both the PDP and its members must be attacked through what has been termed 'character assassination'. Apparently Fayemi does not share or indulge in this line of thinking.
"I'm not an enemy of President Jonathan. I have no problems with him; this I have said on record countless times. As an individual, I actually quite like him but, on policy we disagree fundamentally and that is nothing I am apologetic about. I come from a social democratic ideological orientation which focuses primarily on pulling up the weak and the vulnerable in the society.
"I do not believe that is the PDP school of thought. It is not about personal differences, it's much more fundamental than that. I have a lot of friends in the PDP. There are good people in the PDP…" Fayemi said the above in the same THISDAY interview.
Another man who vehemently opposed the government of President Goodluck Jonathan but did not stop at telling people something good about the personality of the president was the suspended governor of the Central Bank of Nigeria (CBN), now the Emir of Kano, Sanusi Lamido Sanusi. Sanusi, in an interview after his suspension, spoke of the president being a good person who was surrounded by selfish advisers.
Now, Fayemi's display of sportsmanship, alien to Nigeria's political demography, resonates with a lot of people. The following day after the election, Fayose while addressing the press, assumed the position of no victor, no vanquished when he warned his supporters against attacking the personality of Fayemi.
"We must respect each other so as to allow peace to reign in our dear state. Governor Fayemi has called to congratulate me and I am determined to reciprocate this humble and kind gesture."
Even the leadership of the PDP was moved by Fayemi's action and commended him through its National Publicity Secretary, Olisa Metuh.
"This exceptional show of statesmanship has indeed earned Fayemi the respect and admiration of Nigerians as a man of honour, a true democrat and a patriot," Metuh said of Fayemi in a statement.
Many more Nigerians across political leanings have continued to commend Fayemi's sportsmanship, which has come to be seen as genuine and not out of falsehood.
In his first speech on Sunday after the election, Fayemi said he would later meet with Fayose to strategise on a smooth transition process. When Fayose later visited him in his office in Ado-Ekiti on Monday for that purpose, Fayemi disclosed that he would not challenge the outcome of the election in court.
"I will not challenge the result of the election because I am not desperate to remain in office. Election must not be seen as a do-or-die-affair."
According to him, Fayose's victory had assisted in "strengthening and deepening" democracy, adding that "election by its nature generates tension and hot exchange of words, but to me, once the whole exercise is over, all those involved should take such with calmness and stop all acrimony.
"It is my belief that we must all start imbibing the attitude that will make us avoid activities that can threaten our peaceful co-existence. We must also avoid the bad loser syndrome. I believe we need to build this democracy to a mature end, rather than pull it down."
Fayemi has promised not to be distracted by the defeat, but would continue to work for the people until October 15 when he hands over to Fayose, with whom he's agreed to set up a committee to ensure a smooth transition of power on October 16.
For these two and commendably for Fayemi, the peace of Ekiti State and the security of the Ekiti people are far more important than victory for a political party.
"I congratulate the Governor-elect because what we are doing today is a lesson for us that in whatever we do as leaders, we have to consider the overall interest of Ekiti people. Today, Ekiti is victorious. We have shown the world that politics can be played with decorum and restraint," said Fayemi while receiving Fayose.
For every Nigerian politician and their supporters, there is a lesson the Fayemi spirit of sportsmanship seeks to teach and it can best be captured in the governor's statement.
"They said my congratulatory message to the Governor-elect is un-African or un-Nigerian. I don't think it was so because that was what I was expected to do as a democrat. As an elected officer, I have no choice but to respect the wishes of the people. Our democracy is fragile and we have to do whatever we can as leaders to strengthen and deepen it the more. Ekiti is also unique. We all have ties dated back to centuries, so we are not disagreeable in any way."
Irrespective of the diverse nature of the country, with its various religions and tribes, Nigeria remains an entity whose fragile unity must be strengthened by every politician and their followers. When it comes to the issue of purposeful leadership, religion and tribe should not be a factor.
The citizens must be interested in that person and ideology can deepen and strengthen the nation's fragile democracy the more. These much, Nigerians can learn from Fayemi, a governor ahead of his time and one who would forever remain in a class of his own.
This article was first published in ThisDay on Friday, June 27, 2014
Last modified: June 27, 2014