As he prepares to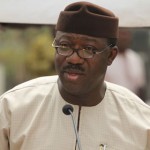 leave office sometime next week, outgoing Ekiti State Governor, Dr. Kayode Fayemi, has shown leadership even with his approach to disengagement. Olawale Olaleye writes
He is by every means in a class of his own. His background as much as his upbringing, without much ado, are two major factors contributory to the make-up of this adult enigma.
Break him down in whichever way, the outgoing Ekiti State Governor, Dr. Kayode Fayemi, painfully took the fall but stood even taller. He crashed out, tumbled but refused to crumble. He was not even down let alone out. He is still standing tall as he plans to quit with dignity, class and respect.
From idea conception, articulation, implementation, and its constructive follow-up, he's proven to be an astute administrator and a unique breed politician. He seems to be leaving behind shoes bigger than anyone of a lower-caste. He is bequeathing a vision, comprehensible only to anyone of his ilk.
Perhaps, for those who had their doubts about the quality of this intelligentsia, his magnanimity in defeat immediately after the June 21 governorship election in Ekiti State, sums it up. Much as he may have expressed reservations about some of the processes that led to the election, he knew he had a responsibility to congratulate the winner, Mr. Ayodele Fayose.
In any case, for every contest, there would always be a winner and a loser. He admitted to having lost the election, but not without a genuine and sincere fight. He's since moved on and this can be located in many respects.
First, immediately the election was won and lost, Fayemi took up the responsibility to look after the Governor-elect even though as a governor, there is limit to what he could do in other respects. He soon after the election set aside monthly logistics for the incoming governor to cater for his personal needs pending the swearing-in next week.
Fayemi also seconded a civil service director in the form of a protocol person coordinating Fayose's activities and programmes as governor-in-waiting. This, in essence, is to make him more organised as well as prepare a likely rusty successor ahead of taking over the reins of power.
That aside, he also went into full collaboration with Fayose on how to see through a successful transition, leaving nothing to chance. These, without playing to the gallery, can be said to be alien to the body polity.
Apart from making sure Fayose is doing fine by virtue of his new status, Fayemi has scored yet another milestone in the political history of the country, by designing a seamless change of guard, especially between persons of different political parties without the familiar brickbat that often characterises political rivalry.
Particularly instructive is that Fayemi isn't just walking away; he is doing so with his shoulder high. He has, since October 1, been inaugurating different legacy projects across the state by prominent persons from different parts of the country.
For an event that commenced with a "Thank You Tour" of the local governments and local council development areas on Monday, September 22, and followed immediately by the inauguration of the Gender Studies Centre at the Obafemi Awolowo University, Ile-Ife, by the Osun State Governor, Rauf Aregbesola, Fayemi has obviously set out to make a statement exit.
Leading this initiative, however, was the inauguration of the Ekiti Parapo Square by Gen. Muhammadu Buhari, one of the frontline presidential aspirants on the platform of the All Progressives Congress (APC) on October 1.
On Friday, October 3, there was the inauguration of an assisted World Bank and European Union projects – YESSO and WSSSRP3 projects respectively.
The following Monday, October 6, another presidential aspirant in the APC, Alhaji Atiku Abubakar, was in town to inaugurate the Oba Adejugbe Hospital, while a former military administrator of the state, Major-Gen. Adeyinka Adebayo, inaugurated other renovated hospitals in Ekiti Central Senatorial District.
However, on Tuesday, October 7, the day started with the commissioning of renovated hospitals in Ekiti North senatorial district in Ikole-Ijesa, Isu-Otun, Ifaki by former governor, Niyi Adebayo. This was followed up with a forum with all re-elect JKF volunteers.
Wednesday, October 8, was the inauguration of projects at Ekiti State University Teaching Hospital (EKSUTH) by Gen. Abdulsalam Abubakar, followed by the School of Nursing administration building and the MDG water project at Erinjinyan.
The following day, Thursday October 9, was the commissioning of Ire burnt bricks and the Ero Pilot Irrigation Scheme by the Kano State Governor, Rabiu Kwankwaso.
Same Thursday, the Lagos State Governor, Babatunde Fashola, launched the laws of the state after a lecture titled: "The Place of the Law in Governance and Development." Some of the laws launched by the Senior Advocate of Nigeria (SAN) include: HIV anti-stigma, forestry bill, electricity master-plan, tourism master-plan and digital roadmap for the state.
Today, there are two exercises. First is the inauguration of the Federal High Court and second, the WEMABOD Housing Estate by Mrs. Angela Adebayo.
Tomorrow, there will be the inauguration of Sam Aluko House (Ekiti State Liaison office in Lagos) and cocktail for Ekiti indigenes in Lagos by former Lagos State Governor, Bola Tinubu.
Sunday will start with anniversary thanksgiving at St. Patrick's Catholic Cathedral, Old Garage, Ado Ekiti, followed by the inauguration and unveiling of Fayemi's achievements by Professor Wole Soyinka. There will also be tributes, book presentation and command performance, all of which will be chaired by the Speaker, House of Representatives, Alhaji Aminu Tambuwal.
Monday, October 13, is billed to start with the showcasing of Ureje Water Front Resort by the Minister of Tourism, Chief Edem Duke, at the Ureje River, after the state House of Assembly must have held a valedictory sitting. Following this would be the inauguration of Samsung Engineering Academy by Chief Bisi Akande, former Osun State governor and immediate past national chairman of the APC.
Also on Monday, the Imo State Governor, Rochas Okorocha will inaugurate some renovated hospitals in Ekiti South senatorial district in Ode, Ijan-Ekiti.
Tuesday, October 14 is the unveiling of the statute of Mrs. Funmi Adunni Olayinka, the late former deputy governor, at the Civic Centre, by Mrs. Yeside Agboola. Also slated for that day is the commissioning of Fountpar food processing company and the College of Technical and Commercial Agriculture by Gen. Alani Akinrinade.
However, his last day in office, Wednesday, October 15, will witness a meeting by the governor with top civil servants, a valedictory state executive meeting, commissioning of Ado-Iworoko-Ifaki road by former governor Segun Oni before Fayemi finally pulls out from the Government House to his hometown in Isan Ekiti.
But of all the projects inaugurated by the Fayemi administration, nothing seems to excite the government and Ekiti people as much as the new Government House, which looks almost like the US White House, both in structure and design. It sets out to give Ekiti a new image perception.
Partitioned into East and West wings like the White House, the structure which sits atop a hill in the heart of Ado, the state capital, is a completely functional house which comprises both the residence and home office for the governor and the first lady.
Certainly, Fayemi will go down in history both as a blessing and a lesson for the Ekiti people, especially given the manner of his emergence as well as the maturity that typified his exit. He would be leaving office next Wednesday with his name and dignity intact.
This article was first published in ThisDay Newspaper on 10, October 2014.
Last modified: October 10, 2014