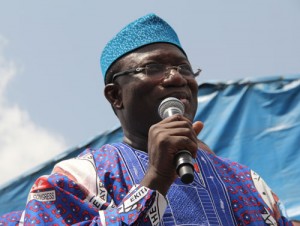 In the build-up to the 2014 Ekiti State Governorship Election on June 21, the state governor who is seeking reelection for another four-year term, Kayode Fayemi of the All Progressives Congress ( APC), fielded questions from Steve Osuji and Femi Macaulay, The Nation Editorial Board members, on poll-related issues, at his country house in Isan-Ekiti.
ON a general note, what are the critical lessons you have learnt since you took up this job?
There are lots of lessons. Firstly, I have discovered that every politician comes to terms with the obvious realisation that political timetable does not always synergise with government timetable; and what I mean by that is that you have a great vision and have programmes that stem out from that vision and implementation of the vision could spill beyond a particular term of office, so you cannot necessarily restrict yourself to a political timetable when you are initiating a project.
Secondly, one the lessons that comes with politics is clearly performance, which is an extremely important factor in assessing politicians; but performance,  however dignifying in itself, is not enough to measure success in politics.
Another thing is if you have focus, sincerity of purpose, determination and a clear vision, lack of resources is not necessarily an impediment to achieving your overall objective. If somebody asks me that you are number 35 (out of 36 states) on the revenue ladder of Nigeria, how have you been able to do things in spite of the fact that resources available would not normally qualify you for any tangible development stride? And the basis of comparison is that your average income is N3bn monthly and you have 2.5 million people. Bayelsa has N24bn and there are 1.2 million people. For me, I do not see finance as an impediment if you have a clearly designed plan and sincerity of purpose, and focus on changing the lives of your people, you will still get a great deal of stride to your credit.  Leadership is about patience, perseverance, restraint; and these are not necessarily political lessons, but lessons of leadership in any sphere not just in politics. You cannot lead people if you don't have a great deal of patience, restraint and the capacity to accommodate both the sublime and the ridiculous.
Any surprises so far?
I cannot honestly say I haven't had any experience that shocked me since I assumed office. But I do have an advantage as I always say to people. Don't forget, I stem from having an agenda and coming to the race with a wide spectrum of people. I had three and a half years of fine-tuning that agenda and discussing with people and ensuring that I respond to things coming from the other side. For example, the three and a half years that I was in court, every time the government in Ekiti State at that time produced a budget, most times in November- December, we always had an alternative budget based on our eight-point agenda. We used to produce a budget but because the House of Assembly as at then was a hung parliament, we had enough members to incorporate some of the issues we had in our programme into the state agenda. We were 13 and the other side was 13; we were able to insist on either delay of the passage of appropriation or getting in some of our views. When I came into office, I had a 100-day plan and a one-year plan. We were the first state to raise revenue from the capital market. We have a distinct advantage of tapping into my own old network in the development world and I was able to bring back major development players into the state that had left the state when the government in Ekiti State was nothing to write home about.
World Bank and European Union have been very active in the state and we got major funds that were able to cushion our desire for development of the people.  We give funds for the elderly, a form of social security, and laptop per child programme, how are we able to do these?  It was the product of prudence, focus, which has helped us in managing the affairs of the state.
With the benefit of hindsight, are there things you would have done differently?
The things I do are out of my passion to make a difference, and probably in terms of timing some people might think they can be handled when have stabilised government or get into second term as it happens in other places. I did education reforms, for example, and merged schools, secondary and university; there are two universities in this state that we merged into one. And, of course, the various tests for teachers and principals, so we do quite a number of things. These are things that are not exactly the most attractive for politicians to do in a place where you have those that are not easily well disposed to what I might consider to be tough nut to crack. Not that I regret taking those steps because it's paying off for us now; if we had not done some of the things we did in the education sector, we would not have gotten the kind of support we got. We have $15m from the World Bank, not many states can talk about that but we needed to take certain steps. We did not take it for that money, but when we took those steps, World Bank noticed and then said thank goodness, if you have a state that has managed unprompted to do these things, maybe we should look in this direction.
Politically speaking, we know how it is as politicians do not want to run into problems with civil servants, most especially in a basically civil service state, but interestingly, the effect of that is that they now become the beneficiary. When we pay teachers' allowances that are not paid in any state, it is because we decided to take steps that could give us support to accomplish that. We pay core-subject allowance to teachers in Mathematics, English and Science.
We have seven teachers leaving this state shortly for the United States. This has never happened to them before. We pay salary, I mean standard salary. Teachers in this state earn almost double their normal salary. If you are a teacher in the rural area, you get 20% allowance of your annual standard salary for teaching in the rural area, for instance in my village, if you are a teacher, you earn 20% in addition to your normal salary.
Something like inconvenience allowance?
Yes, this is because we have discovered that people do not want to teach in rural areas and they want to remain in the city centre like Ado Ekiti; thus, we had to do something in order to ensure that our children out there are not disadvantaged. The bulk of this state is rural, invariably, more than half of our teachers earn rural teachers allowances. If you teach core subjects,  Mathematics, Computer Sciences, English and other science subjects, you earn another 20% and what that then means is that you have almost half of your salary as allowance in addition to your salary, and also have field capacity training programme that you benefit from. There is no state you can point to giving these benefits to the average teachers.
Your administration seems to place a high premium on education.
I value education and I believe that it is the antidote to poverty; and so if you have a grand vision to make poverty history in a state, one of the ways is to increase the literacy level of your population, to increase the access of your people to opportunities, and you cannot have access to opportunities if you don't have basic education. Don't also forget that this is Ekiti, it has a reputation in terms of education.  The other thing is that I am a product of this environment. My school is Christ School and when I was in school it was one of the best schools; that is the reputation.  When in 2012, only 9% of the students who wrote WAEC Exam had passes in Maths and English, I was very upset because when I was in Christ School there were  50 Grade One  in my set.
Including you?
Yes, I made Grade One. But that is not the point. But the fact is that you could imagine how scandalised I was when I saw the results. I was very upset, agitated and the step we took was to organise a unified promotion examination in SS2, and if you don't pass that exam we will not present you for WAEC. In 2013, the results vastly improved.  Those who saw the move as unpopular then are now happy with the steps we took.
What is the next level? What are you looking at?
For us here the challenge we are still dealing with is that we have lots of people who are educated, but we have a lot of people who do not have enough skills for employment generation. There must be connection between academic knowledge and skill.  Creating and sustaining a knowledge economy is key for us; we have a hub of knowledge economy in this state now. Basically the knowledge zone is like an industrial zone but knowledge creation and economy is imperative. One of the things we are doing, (and no other state is doing) like the cable network scheme, for instance. We don't have the kind of opportunities you have in River, Bayelsa and Lagos which is a commercial centre, but we feel that there are things that we can do to make Ekiti State an investment destination for investors and we are playing on our education advantage and agricultural production.
If you know you run an internet based company, and it is easy to run because labour is cheap; we have a lot of graduates and you empower them for six months; we train them and get them into this business; it will be cheaper. The main idea is information management structure that will now propel the state. We will commission the first phase of the broadband initiative in Ado Ekiti,  right here in Ekiti State. We are also looking at CCTV in the state, particularly in the capital not in other areas. A lot of things are connected to the cable network being installed across the state. For me, continuity is key. What is critical is how do we get out of this crap and create an economy that is sustainable; and to find a way to create new value to traditional value. Even our children, when they read they find their way out of Ekiti, and we must find a way to make them stay by providing a profession.
Are you likely to review your eight-point agenda?
There are some things that we have established over time. Our commitment to education is not negotiable. We are focused on technical education and knowledge economy. We are more linked to a wider investment strategy.  It is not what it used to be. If it continues in this way, it is clearly going to diversify into things that could generate alternative sources of income.
When I lost my deputy, one of the things we committed to doing was to establish a cancer prevention centre which was equipped to treat people and establish a culture which we are doing not just by our own self but through Public-Private Partnership.  We will continue to focus on primary health care for pregnant women and the children, elderly and the physically challenged.  We do not discriminate in our healthcare services. The service here is free and it goes round and whether you are 40 or 70, you can come and you will be attended to. If you have that going, in order to sustain our effort in the health care sector over a long time, we now have health insurance in the state. We just started health insurance in the state, it is kind of integrated but I can state clearly that we can already see the impact on  maternal and child mortality, life expectancy;  we have lower HIV prevalence in the entire country and life expectancy has improved. It is something we do in the primary healthcare that is making us to achieve this feat. Elderly people who would have been dying from neglect benefit from our monthly N5, 000 stipends which have prolonged their lives.
Poverty eradication is a major focal point of your administration. How well have you succeeded in your defined mission to banish poverty from Ekiti State?
We are not very good at statistics in Nigeria, and I will not be brandishing numbers around. If you look at the ideological framework of what we do in Ekiti State, you will see clearly a social democratic agenda that is focusing on the weak and the vulnerable in virtually everything we do. People who ordinarily would not go to school are now going to school through our free education programme. People deliver babies free, who probably would have gone to some traditional birth attendant because they could not afford money to go to the hospital. My wife and I run a multiple birth trust fund because we have a high level of twins and triplets birth here; automatically the real objective is to reduce the risk involved in child birth for both the parents and the children. Everything we do is informed largely by that framework. People are better off. You can also see the economic incentive, when we provide infrastructure like water, road, they also increase level of access unlike what used to be the case.  We have rural development, in every part of the state there is hardly any community I go in all the 132 communities where the community will not roll out 4 to 5 things we have done for them.  Some of these things, we give them the money to do and we work with the town union and they deliver the project on cost and on time much better than what government would have done if we had done it ourselves. I get to these communities and they will tell how grateful they are for the power, roads, schools, healthcare centres.  What we are trying to do now is to lay the framework, get the infrastructure so that the investors can come. In the space of three and a half years in this government, we have had about 10 standard firms come to Ekiti. When we put light in Ado Ekiti, we used to sleep 7:00pm.  At 7: 00pm, you will not see anybody before I became governor. Today, we have people walking on the streets at 9:00pm. We have people selling recharge card at 12: 00am. A new economy has emerged around the street lights installed in major towns. Infrastructure is not just the few good things; it has a very important role to play in investment creation. What we are doing also is to establish linkages with facilities managers, new hotel consortiums to take over where we have reached in places like Ikogosi so that they can now establish a new Ikogosi, put a new hotel and run the place well. It is not the job of the government to be running hotels. We have done what we could and others can now take it up from there.
You made an interesting distinction between success in governance and success in politics. How well have you been able to strike a balance between politics and governance?
The people were very much involved in my campaign to become Governor, very much they felt I was cheated and there was a lot of tension in the air. There was also an exaggerated expectation and some people felt that I would just come and turn around everything in this place. I had that challenge when I became Governor. People just believe that he has come, our problem has to stop. In my first year, I had challenges in the sense that we had worked out all the plans and sorted out all our issues but the funds were not immediately there to execute all our plans and you know human beings are very short in their orientation. Then they said that the guy is not as we thought and when the work started happening the tune changed, but then I had called some bluff and I had acquired new enemies from those who should have been commissioners who are not, those who think they should be on board and are not there. Even internally, they think I am a professor and I'm not like Fayose. I don't dance on campaign train, I don't blow horn (eat corn) on the street like him. But I have done a lot of things in three and a half years. I concentrate on my work. If you see me on the street, I am concentrating on my work, monitoring ongoing projects.
Shortly after your inauguration as Governor, you said publicly that there are always debts to be paid in politics. How well have you paid such debts?
Interesting question, there will always be debts to pay. There will be some realigning sooner than later and these things will not be done on a platter of gold as they will be negotiated. An enemy yesterday could be an ally today and they may be instrumental to the realignment.
I will never pay them back in their own coin. All I would say is that I will not do anything that is against my conscience.  I believe I came into politics with heavy dose of integrity and for me character is imperative. Whatever I go into, I owe it to myself to explain it to an ordinary person as to why I have done what I have done.  I think we will have a two-horse race in the coming election.
Three
No, I don't think it will be three. The two-horse race will be very sharp that you will have to make up your mind about the place you want to be.  Do you want to go with PDP or APC? The party will pale into some level of insignificance and the candidate will become the issue and the way the candidates are seen. The only way the party may be an issue is the structure on ground to project their candidate. Let's say that the election is about good governance and what Ekiti wants for their future. It is much easier to determine election but there are externalities that we must factor into it ultimately. Character will define this election.
This article was first published in The Nation on Sunday, May 18, 2014
Last modified: May 18, 2014