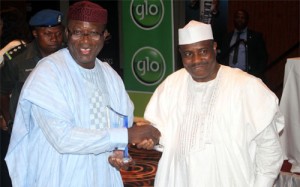 It was an evening of excellence and recognition recently at the   Intercontinental Hotel, Victoria Island, Lagos, for Dr. John Kayode Fayemi, governor of Ekiti State, when he was decorated as Champions Newspapers Governor of the Year Award.
The event, which provided yet another opportunity for eminent Nigerians to celebrate the man reputed to have, in the last three and a half years, brought about the   transformation of   Ekiti State, also had other eminent Nigerians receive awards in various categories.
They include renowned industrialist and Africa's richest man, Alhaji Aliko Dangote (Champion's 2013 Man of the Year), Mr. Peter Obi (Outstanding Igbo Personality of the Year), Chief Sunny Dike Odogwu (Lifetime Achievement), Chief Emeka Anyaoku (Lifetime Achievement), Chief Ralph Uwechue (Lifetime Achievement),
Chairman of Honeywell Group, Dr. Oba Otudeko, Dame Abimbola Fashola (Heart Of Gold), Lady Mercy Odochi Orji, (Heart of Gold), Dr. (Mrs.) Stella Okoli, (Heart of Gold), Dr. Akinwunmi Adesina (Minister of the Year), Chief Leo Stan-Ekeh (ICT Personality of the Year), and Engr. Earnest Nwapa (Oil and Gas Personality of the Year).
Globacom Limited, Zenith Bank and Mutual Benefit Assurance were equally honoured.
Fayemi was the man of the moment at the colourful event which had Speaker of the House of Representatives, Hon. Aminu Tambuwal, as Chairman. The reason for this is simple: Speaker after speaker unleashed a torrent of panegyrics on the activist governor. In his address of welcome, Executive Chairman of Champion Newspapers, Chief Emmanuel Iwuanyanwu, represented by Chief Bonnie Mnachukwu, described all the winners as men and women who had provided sacrificial leadership in the country.
Said he: "Our 2013 awardees are certainly deserving of their awards. The recognition is not meant to massage anyone's ego or to promote frivolity. Our newspaper conducted an independent investigation of the activities of the award winners. Our assessment of the awardees was without their knowledge and without their approval.
"Our country is moving towards turning the corner and it has therefore become imperative to appreciate those who provide sacrificial leadership.
"There is no doubt that there is a dearth of committed and selfless leaders in our society today, not only in politics but also in the economy, education, industry, academia and a host of others. As we consolidate our democracy, there is no other time than now to begin a process of identifying and celebrating those who have effectively utilized   every opportunity to lead at one level or the other for the good of our people.
"This is our modest way of contributing to the uplift of our society by providing a veritable platform to recognize selfless service among public office holders."
Tambuwal     expressed satisfaction at the calibre of individuals and groups being honoured.
"It is true that despite the many problems we face as a nation, most of which can be blamed on the lack of the political will of most leaders, there have been people who have been able to raise the bar. Awards like this serve as recognition of the efforts of such people and help to set agenda on the kind of leadership we should have". He called on the media to help influence policy and set the agenda that can ensure society's progress.
Lagos State Governor Babatunde Fashola, in his speech at the occasion, poured  accolades on Fayemi, describing him as a friend and brother.
"He is a very selfless leader," Fashola said. "He is someone who has shown to us how strong he can be. Even though his intellectual disposition suggests that he prefers staying in the comfort of his office, he is still committed beyond that, and when he is committed to a cause you can be sure he pursues it so judiciously.
He held on to his mandate in spite of the obvious odds against him. He went from court to court in pursuit of justice and when that justice was served, he continued to use it for the benefit of his people and for the purpose he achieved it.
I think it is such value and strength of character that has failed to elude the attention of the Champion Newspapers and resulted to his choice of the newspaper's 2013 Governor of the Year. I believe this is to also encourage him to do more."
He described his wife, Abimbola, who was also honoured at the event, as a pillar of strength and a woman with the heart of gold. "Since I met my wife, my life has been going in a positive direction," he informed the gathering.
Another awardee and immediate past governor of Anambra, Obi, said Fayemi's performance so far had placed him at an advantage over other contestants in the forthcoming governorship polls in Ekiti.
A tumultuous cheer from the audience rented the air as Fayemi was summoned to receive his award. Resplendent in his blue agbada and a wine-red Awo cap, the governor, who beamed with smiles, stepped to the podium, accompanied by his wife, Erelu Bisi, Fashola, Osun State governor, Ogbeni Rauf Aregbesola, and other dignitaries. The award was presented to him by Tambuwal.
In his acceptance speech, Fayemi praised the organisers of the event for appreciating his efforts at uplifting his people. He was also full of gratitude to his wife for being a pillar of support, just as he appreciated his children and family for coping with the stress of his busy schedules.
"I dedicate the award to the good people of Ekiti State," he said. "For me, it is a great privilege and honour to serve my people. It is rare for one to attain such heights in our country, so for those who are endowed with the privilege to serve our dear country, at this highest office, we owe them a duty to serve diligently, selflessly and with great compassion and other similar ways.
That is what we have done in the last three and half years in office. The evidence of that transformation agenda is all over the state for all to see. I do agree with Mr. Peter Obi that I am running for the second term on the strength of my great performance.
The things that I have done in about 132 communities in our state are very visible and are evidence of performance all over the state. So for me, this award is an encouragement for us to continue to work harder. I thank the people of Ekiti State for giving me this rare opportunity of leading our state back to the path of honour.
"This is not my first award as Governor of the Year. I also won the Leadership Newspapers 2012 Governor of the Year Award. So, as I go into the gubernatorial race the second time, the people of Nigeria already recognized that we have served our people well and we are building on that legacy of sound service to our people.
We will build on that foundation of development and continue to contribute our quota to make Ekiti State great."
Olayinka Oyebode, Chief Press Secretary to the Governor, said his principal indeed deserved the award owing to his palpable transformation of Ekiti State in all areas.
"The governor always puts the people of the state first in all decisions he makes, and this is responsible for the rapid and massive development visible in the state presently".
Prior to receiving   the Champion Newspapers' Governor of the Year award, Fayemi had, in July last year, received the Zik's Prize in Leadership Award in the Good Governance category. He also won the Samsung Award for Best Governor in ICT application for   his   e-school project. The award was presented to him in South Africa.
In February this year, the Old People's Care Foundation under the leadership of former Justice of the International Court of Justice, Prince Bola Ajibola, recognised his pioneering role in the social security scheme for the elderly citizens with an award that was presented to him in Ado-Ekiti.
A group of Ekiti dancers enlivened the event. They praised Fayemi for taking care of the people, including the aged, who now receive monthly stipends from the state government.
Dignitaries who came to celebrate Fayemi at the event include a  former Ekiti State governor, Niyi Adebayo; Fayemi's deputy, Prof. Adelabu; Speaker of the State House of Assembly, Dr. Adewale Omirin; Senator Tony Adeniyi; members of the State Executive Council; traditional rulers from Ekiti State; and Deputy Vice Chancellor of Ekiti State University, Prof. Gbenga Aribisala.
By Judith Ufford
This article was first published in The Vanguard on April 27, 2014.
Last modified: April 27, 2014