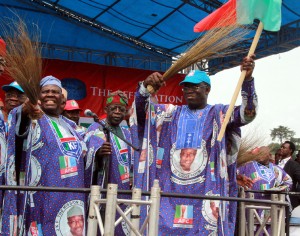 Ekiti State Governor, Dr. Kayode Fayemi, on Wednesday unfolded his development agenda for second term in office with a pledge to recommit himself to the good and more service of the people.
Fayemi was officially presented with the flag of the All Progressives Congress (APC) to run as the candidate of the party in the June 21 election at an impressive rally held at the Oluyemi Kayode Stadium in Ado-Ekiti, the state capital.
The flag was handed over to Fayemi by the Interim National Chairman of the APC, Chief Adebisi Akande who said the governor was found worthy of representing the party as a candidate at the governorship poll.
The fanfare of the event was reduced in deference to the mood of the nation which is still mourning the killings of many Nigerians by terrorists in parts of the North.
A minute silence was observed in honour of victims of bomb blasts in Jos, the Plateau State capital and prayers were held for the  safe return of Chibok schoolgirls kidnapped by terrorists in Borno State.
Fayemi said although the state has witnessed a massive change in the last three and a  half years, he was motivated to present himself for re-election because of the need to build a society where all Ekiti people will be partakers of a collective prosperity.
The governor officially unveiled his manifesto for second term which was tagged "Roadmap to Rapid Economic Growth and Development" otherwise known as the Ekiti Agenda.
The agenda is made up of policy thrusts of his administration from 2014 to 2018 and beyond.
The APC standard- bearer stressed that he has kept faith with Ekiti values as the people of the state has kept faith with him, noting that "Ekiti is moving forward under his administration with the future of the state already assured.
APC stalwarts who witnessed the flag presentation included former Head of State, Gen. Muhammadu Buhari (rtd); former Lagos State Governor, Asiwaju Bola Tinubu; former presidential candidate, Malam Nuhu Ribadu, former House of Representatives Speaker, Alhaji Aminu Masari, Dr. Ogbonnaya Onu, former Kawara State Governor, Senator Bukola Saraki; former Kaduna Governor, Gen. Jafaru Isa (rtd) and Senator Biyi Durojaiye.
Fayemi's brother governors at the rally included Rochas Okorocha (Imo), Rotimi Amaechi (Rivers), Adams Oshiomhole (Edo), Abdulfatah Ahmed (Kwara), Tanko Al-Makura (Nasarawa), Abiola Ajimobi (Oyo), Rauf Aregbesola (Osun), Babatunde Fashola (Lagos), Rabiu Kwankwaso (Kano), AbdulAziz Yari (Zamfara) and Ibrahim Gaidam (Yobe).
All the governors presented Fayemi with cards of endorsement.
Former Governors present were Chief Olusegun Osoba, (Ogun); Otunba Adeniyi Adebayo, (Ekiti); Senator Danjuma Goje, (Gombe); Senator Abdullahi Adamu, (Nasarawa)Senator Bukola Saraki, (Kwara), Timipre Sylva (Bayelsa) and Segun Oni (Ekiti).
Ekiti Deputy Governor, Prof. Modupe Adelabu; her Osun counterpart, Mrs. Titi Laoye-Tomori and Fayemi's wife, Bisi, equally attended the rally.
Members of the two chambers of the National Assembly and members of the Ekiti State House of Assembly also graced the occasion.
Fayemi maintained that his commitment to serve is unyielding in and outside office, adding that he was emboldened by the realization of the fact that the endorsement of his administration is not about himself but the endorsement of the values of which he is the vessel.
He said: "I was raised to understand that the life well lived is a continuum of service; service to God and service to humanity. Indeed, my mentors and parents pressed upon me that service to God is demonstrated by serving others positively, impacting the people around us, and by demonstrating a fierce resolve to leave people better than they were when they met you.
"Leadership itself is merely the opportunity to serve and power is a God-given resource with which we are meant to change lives for the better.
"I went into politics because I believe that committed purpose-driven servant-leadership can provide people with the tools that will empower them control over their destinies".
Tinubu in his remarks urged Ekiti electorate to come out en masse and vote APC and not be intimidated by the Policemen and Soldiers whom he said are paid from the resources of Nigerians.
He charged them not to go back to the dark days, saying God forbid a reversal of good fortunes being enjoyed by Ekiti people under an APC -led administration.
Tinubu explained that Fayemi has put his hands on the plough and had never looked back, saying a vote for Fayemi is a vote for continuation of goodies being enjoyed in education, healthcare delivery, social security for the aged, among others.
The former Lagos helmsman called on Ekiti voters to be vigilant on election day and ensure that every vote counts.
Imo State Governor and Chairman, Progressives Governors' Forum, Owelle Rochas Okorocha prayed that "may God never allow a bad man to rule Ekiti State again" saying Fayemi is eminently qualified to rule in any part of the country.
He said the People's Democratic Party (PDP) had put the development of the country on the reverse gear while the only thing on its forward gear is corruption.
Osun State Governor, Rauf Aregbesola, on his part maintained his call for the use of electoral card  reader for Ekiti and Osun governorship polls to prevent the cloning of voter cards and voter register.
The Osun governor said Nigerians are sick and tired of the PDP and are yearning for  change at the federal level.
Oshiomhole warned Ekiti people to be careful not to elect "a candidate who was tried, failed, impeached and charged to court for corruption.
He explained that he noticed a great change in the state brought about by the Fayemi administration, adding that the whole world is watching how Ekiti poll will be conducted.
Former Ekiti Governor Oni, who formally identified with APC at the rally, said a new political order is being put in place in the state to ensure that the people enjoy dividends of democracy.
He said Ekiti people must ensure that Fayemi  is voted back to office massively to make more difference in their lives.
Oni added:"We are not here to enthrone mediocrity but for Ekiti people to have a government that our children will benefit from.
"Anybody that our children will not see as a role model, I will never endorse such a person. We don't want a governor who will pass under the barbed wire. We can no longer afford a governor that people will be asking Ekiti people what is wrong with them".
Artistes who thrilled the crowd included Fuji musician Adewale Ayuba, rap musician Olamide; actors, Odunlade Adekola and Yemi Sodimu, among others.
Last modified: May 21, 2014