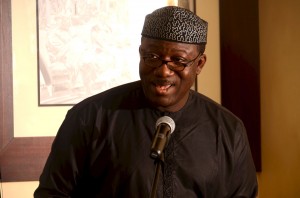 Ekiti State  Governor, Dr  Kayode Fayemi is currently on a three – day official visit to the United Kingdom.
During the visit,  Governor Fayemi will honour  a number of speaking engagements focusing on socio- political developments in Nigeria and globally.
According to a  statement by the Chief Press to the Governor,  Mr. Yinka Oyebode,  Fayemi would be delivering a lecture at the Royal Institute of International Affairs popularly known as 'Chatham House'. London on Tuesday.
Governor Fayemi would be speaking on the topic 'The Challenge of Change: Democracy and Development in Ekiti State, Nigeria'.
The release stated further that Governor  Fayemi would also be participating as a guest lecturer in the Sussex Lecture series being held by the Institute of Development Studies in collaboration with the University of Sussex on Wednesday..
Governor Fayemi is globally recognised as a leading resource on matters relating to governance, democratisation, security and economic development.
Last modified: November 27, 2012