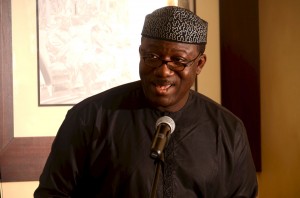 Ekiti State Governor, Dr Kayode Fayemi will be delivering the eighth edition of the Prof Olikoye Ransome-Kuti memorial lecture in Lagos on Saturday.
The Governor will be speaking on the topic : "Tackling health and social inequity in Ekiti State" at the lecture which will hold at the Old Great Hall of the Lagos University teaching Hospital, Idi-Araba, Lagos
According to a statement by the Chief Press Secretary to the Governor, Mr Olayinka Oyebode, Governor Fayemi will be sharing with the distinguished audience of academics, activists, professionals, students, health workers, associates and colleagues of the late Ransome-Kuti, how his administration has been able to solve the problem of social inequity that was the trust of his pro-democracy campaign during the General Sani Abacha years.
Specifically, he will also be sharing with the audience how his administration has been able to achieve the huge social and economic transformation going on in the Ekiti State in spite of the state's lean purse.
The lecture which will be chaired by the Nobel Laureate, Prof Wole Soyinka, according to the organisers, will feature a question and answer session and  will also be streamed live to all internet enabled laptops, tablets and mobile devices.
Other past speakers of the lecture series which began in 2006 include Prof Adetokunbo Lucas, Prof Fredrick Torgbor Sai, Prof Babatunde Osotimehin, Prof Wole Soyinka, Dr Mohammed Pate, Prof Jackson Omene and Prof Kelsey.
Last modified: May 30, 2013