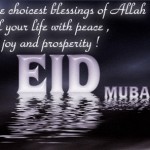 Ekiti State Governor, Dr. Kayode Fayemi, has felicitated with Muslims on the occasion of this year's  Eid el- Kabir.
 The Governor in a statement by his Chief Press Secretary, Mr. Olayinka Oyebode, said witnessing another Eid –el- Kabir amidst  the socio-political challenges confronting the country is a special privilege from the Almighty Allah.
 Fayemi said the festival offers another opportunity for sober reflection, soul searching and spiritual renewal which Allah demands from the faithful.
 The Governor noted that the lesson of sacrifice which Eid el Kabir teaches should not be lost to the pomp and pageantry that accompany the festival.
 According to him, Allah brought victory and joy to Prophet Ibrahim and his son Ishmael after the duo demonstrated uncommon sense of sacrifice towards fulfilling the will of the Almighty.
 Fayemi commended Muslims in the state for the support given to his administration in the last four years which has resulted in unprecedented success, good governance and transformation in all sectors.
 He also used the opportunity to reiterate his call for peace in the state urging Muslims and adherents of other faiths not to relent in praying for the sustenance of peace in the Land of Honour.
The Governor said Ekiti has enjoyed peace in the last four years of his administration urging residents of the state to cooperate with government and security agencies to maintain peace.
 Fayemi explained that the call became necessary as the state is on verge of transiting from one administration to the other appealing to politicians and other stakeholders not to engage in anything that could lead to breakdown of law and order.
 The Governor pledged to ensure adequate security for the Muslim faithful  and non-Muslims during and beyond the festive period urging for a moderate celebration.
 He restated the desire of his administration to protect lives and property in the state saying no sacrifice should be too much to pay for the sustenance of peace in Ekiti.
 Fayemi also prayed for a safe return of Ekiti pilgrims who are performing this year's Hajj in Saudi Arabia.
Last modified: October 4, 2014