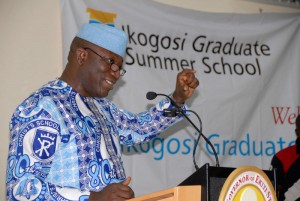 The first Ikogosi Graduate Summer School (IGSS) was on Saturday wrapped up with Ekiti State Governor, Dr Kayode Fayemi making a case for  attitudinal change among the people as a way of  sustaining the many changes which are being made to the physical structures in Ekiti State.
Speaking at the closing ceremony of the Summer School, the Governor reiterated his commitment to the development of the mental capacities of young Ekiti people and prepare them for future challenges; adding that "we must let our youth and  trainers of future leaders realize that there is no short-cut to acquiring knowledge. It can only be acquired  through hardwork."
Dr. Fayemi who stated that physical infrastructure could collapse and sometimes  require repairs, stressed  that  knowledge impacted in the people is the surest way to sustain the infrastructural developments.
 According to him "We are building structures and effecting changes to our physical structures in Ekiti, but they can  only be sustained  by attitudinal , mental and value re-orientation among our people and this remains one of the best ways to actualize this."
 The Governor who opined that knowledge building helps to prepare one for a lifetime benefit cautioned academia against seeing  their positions  as means  for personal aggrandizement ,  but a way to effect changes  in the society .
At the well attended closing ceremony, the Vice Chancellor,  Ekiti State University, Prof Oladipo Aina , said that he had instructed the Postgraduate School of the University to devise modalities through which EKSU could partner with Ekiti State government to further strengthen the Ikogosi Summer School.
The Vice Chancellor said the IGSS programme is like bringing a tip of the global intellectual community to "our environment" as there is no way there would be development in a community without having this kind of gathering.
Aina opined that the programme should not be limited to graduate students alone but be extended to the academia so that knowledge could further be enhanced; saying that IGSS is the beginning of the actualization of the State's potential as the fountain of knowledge.
Last modified: July 1, 2013