ON Tuesday, 17 July, 2011, avuncular Pastor Diipo Bamidele of  the Covenant Christian Ministries, Lagos, himself the son of a clergy and well known and respected by all for his objective views on issues ,wrote as follows on ekitipanupo concerning Ekiti.'I have been in Ado-Ekiti since last Sunday. I arrived at night in heavy rain and got caught up in the massive and agonising traffic gridlock which started from Christ's School and stretched through Teaching Hospital to Opopogboro and terminated near the Testing Ground.
'The following morning, l left home very early for an engagement around the GRA, but, again, got caught up on my return journey to Petim area.
'l decided, later in the day, to take a ride round town to see things for myself. I visited all exits and went downtown. I was amazed at the massive and inclusive construction work going on. I took pains to assess the huge cost needed for reconstruction as a result of shoddy work done in the past. For instance, even as a non engineer, the scrapping of the bitumen overlay on Ado-Ikere Road showed that there was no proper soil test or compaction, which led to rapid road failure.
'Lack of proper drainage, shabby construction works led to the need to pull down structures, clear some places of shanties and rebuild. It is an enormous work.
'In the process, the inhabitants would be inconvenienced, but then there is no gain without pain, and no glory without a story. We just need to be patient.
'I can boldly confirm that throughout yesterday there was free flow of traffic in the town. The contractors are all working at good speed to meet deadlines. I feel reasonably sure that by December, Ado-Ekiti would have been transformed.
'Further findings also showed that the government is on course with its agenda. It is costly to build, but costlier and slower to rebuild, renovate, reconstruct, and construct.
'What we had before was largely very poor foundation.
'Let us all be patient, and join hands together to see a new Ekiti emerge.'
Today, and for the next two weeks, my ever loyal readers will be treated to the efforts of a highly concentrated mind, that of governor Kayode Fayemi, and his enormously committed team, in turning around the fortunes of a beleaguered state which, for 9 cheerless years, was in the throes of some thoroughly vacuous PDP governments, one of which lasted all of one day. This time, as told by the refreshing Hakeem Jamiu, the governor's Senior Special Assistant on Research and Documentation.
Happy reading.
In the fullness of time, it will be the turn of  Ekiti people whose lives have been positively touched by the Kayode Fayemi-led administration to  judge accordingly. The 20,000 Ekiti elderly people who pray ceaselessly for Dr. Fayemi after collecting a N5,000 monthly stipend and the over  300, 000 (three hundred thousand)  other Ekiti citizens who are beneficiaries of his free health mission programme which had,  in fact,  commenced before he retrieved  his mandate; and the thousands of children under 5, pregnant women, citizens above 65 and the physically-challenged who enjoy free health programme are in a great position to assess the administration.
In the same sector, health workers of all categories have no reasons to complain as it can be said, without fear or favour, that  Ekiti doctors, nurses and others are among the highest paid in the country with the result that the state has become the choice state for doctors, pharmacists, nurses etc. Ekiti State is on record as the first state in the South West to pay a minimum wage of N19, 300 to all categories of workers. Before the Fayemi administration, there were no functional ambulances in the state's hospitals, inclusive of then so-called Teaching Hospital. All we saw was a shadowy Cuban Eye facility that had a paid agent, inter-mediating between Cuba and the state government which ended up paying over a quarter billion naira for the spurious project. This, obviously, is not Cuba's way of helping the world through its highly rated medical tourism programme. Also in the same sector is the massive emergency assistance rendered to indigent citizens who require one form of surgical intervention or the other.
Hundreds of Ekiti families who have benefited from the Multiple Trust Fund which is an initiative of the wife of the Governor, Erelu Bisi Fayemi, to support couples with multiple births will never forget this administration in a hurry. Many had, in this way, got free cleft lip and ulcer surgeries. For Ekiti citizens, it has been two for the price of one as Erelu Fayemi continues to do that for which she has become known world-wide, empowering and positively impacting women, the youth and the weak generally. For this purpose she has been honoured by even the United Nations.
Governor Fayemi has also brought to bear on the health sector his unquenchable thrust to qualitatively impact education in its entire ramification in the state. For instance, the state's School of Nursing and Midwifery recorded over 90 percent success rate at the National Examination of Schools of Nursing and Midwifery. To strengthen capacity for effective delivery of health services, a total of 4,535 health workers were trained in various segments of health care delivery, making the state comparable in the area of training to only Lagos State, in the entire country.
The Fayemi administration is aggressively pursuing development in agriculture because of its numerous advantages. Apart from being capable of providing huge employment opportunities for the women fold and the youth, through the value chain process, it ensures liquidity amongst farmers who are therefore able to enjoy a higher standard of life, nearly effortlessly meeting their daily needs.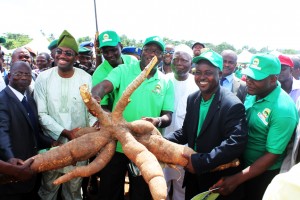 About the first thing the governor did on coming into office was to pay up the huge backlog of unpaid counterpart funding for various agricultural projects. Paying counterpart funding was a literal taboo to PDP governors. Farmers have been empowered via the provision by government, of agricultural soft loans, farm implements and herbicides, while millions of naira have been expended on equipments to assist rice farmers to increase their yield. The empowerment of farmers is also being replicated at the local government level where farmers have been greatly assisted.
In order to make agriculture attractive, commercial and sustainable, the government recently launched the Youth Commercial Agriculture Development Programme (YCAD). 7,500 pilot commercial farmers have been shortlisted, while 1,000 hectares of land have been cleared for the purpose in phase 1 of the project. The project is designed to result in a minimum of 20,000 youth commercial farmers by 2014.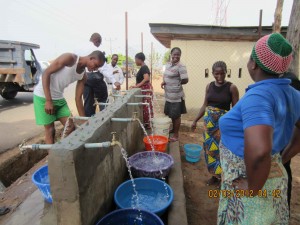 At the commencement of the Fayemi administration, water supply in the entire state was below 25 percent, but this has since increased to 45 percent because the obsolete equipments at our various dams which meant nothing to four successive PDP governors are now being aggressively replaced. New water pipes are being laid, some of which are ready for testing. A heavy duty generator worth 200 million naira was procured and installed at Ero dam as back up for electricity. Also, water treatment plants and generators have been installed at all the mini water dams at Efon, Okemesi, Ido-Ile, Erijiyan and Igbara-Odo.  According to the governor's hardworking Special Adviser on Infrastructure, Prince Kayode Jegede, water supply should have increased to about 55 percent by December 2012 when the Ado-Ekiti head works-Mary Hill-Ajibade-Idolofin-Housing and another 12km pipeline from Ogotun-Ipole Iloro would have been commissioned. Many of these facilities were long standing state investments, even predating the Western Region era, which an illegal Ekiti State government would rather give away in sweet heart deals to its godfathers.
Another area of the Fayemi 8-Point Agenda is transportation where a massive re-engineering is apace. In order to ease the chaotic transport and traffic situation which predominated in the state, especially in Ado-Ekiti, the state capital, governor Kayode Fayemi has invested a lot of rigour, brain power and money in what is beginning to emerge as a modern state all through the state capital in particular, is now like a humming construction site with all manner of infrastructural developments and urban renewal going on 'pari passu'. A visitor would not be too wrong to think there had been no government there in decades.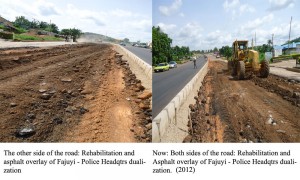 The quip of a wisecrack at our watering hole during the past week that the Lilliputians governing us  have atrophied Nigeria to their Lilliputian heights meant nothing to me until the following day when I hit the Lagos-Ibadan  Expressway,  9am last Tuesday, 24 July, 2012, and by 12 noon still did not know when I would reach the city. I had intended to honour the memory of departed Rev Ibukun Wale Falope, my brother and friend, all the way from Christ's School Ado-Ekiti, where he was a year ahead of me . But the Lilliputians denied me that sacred duty to a dear friend.  A tear-inducing wit, and son of a Bishop, Wale was your delectable man of God. All we can now do is pray God to grant his 'inimitable soul mate' of a wife,' Vicky, and the children, Bishop and his siblings, the strength to bear this irreparable loss. My commiseration equally goes to  Brother Femi, Jumoke and the other members of the exceedingly  great  family he left behind. Wale, please put my absence at your glorious obsequies at the feet of the Lilliputians. Till we meet, at the feet of Jesus, to part no more.
Hakeem Jamiu, Senior Special Assistant to Gov Fayemi, concludes a  narration of the governor's achievements. Please note that it is massively edited for space purposes.
A total of 16 intra and inter township roads would be delivered within the next three months. Road construction of 5 kilometres each is presently going on in all the 16 local government areas of the state. Under the urban renewal programme, all roads in Ado Ekiti metropolis shall be resurfaced with thick asphalt overlay that would last for at least ten years. This is already in progress. Presently in the state capital, walkways are being constructed as well as flower beds. Reconstruction and beautification of major roundabouts will soon follow while the contractor that will erect streetlights on the newly resurfaced roads has moved to site. Road construction  is  simultaneously going on in all the 16 local governments  of the state.
As is already well known, power is an integral part of the governor's 8-Point Agenda. Apart from the procurement of 120 transformers to boost power supply, the administration has  freshly extended electricity to many areas of the state. A good example is the Oke-Ako community in Ikole local government area which has been without electricity for over 200 years. Other communities that have benefited from provision of electricity under the Fayemi regime are: Otunja, Irele-Ekiti,  Ilemeso, Ilupeju-Ijan, Omisanjana, Science Secondary School Emure, and the Ekiti State University Gate. On-going electrification projects include Eda–Ile, Aba Osun, Odo-Uro, Iyemero, and Aba Fatunla in the Ikole LGA.
If anything is integral to the Fayemi administration, it is the overall development, and deployment, as much as  possible,  of the huge human capital in the state. It is not for nothing that the ILE IYI, ILE EYE was hitherto dubbed the Fountain of Knowledge The administration has  employed a total of 4,643 graduates under the Youth Volunteer scheme,  7,500 facility managers and street sweepers. 200 youths are undergoing skills acquisition while some  240 youths are  about resuming training under the  auspices of the National Directorate of Employment  which has established  an active synergy with the state government not to mention the hundreds in the employ of the Traffic Management Agency..
The state, where sits the world famous Ikogosi warm springs is irretrievably being developed into a tourists' centre of choice in the country. The  Warm Spring has been completely re-engineered  with a new swimming pool and  a befitting landscaping, while modern  chalets have been built for the  use of tourists. An amphitheater is currently under construction at the resort and has reached 70 per cent completion.
The Ekiti State Community and Social Development Agency jointly funded by the state and the World Bank has executed 108 projects spread across the 16 local governments. The projects include rural roads; basic health centres; rural electrification;  boreholes,  construction of storage tanks,  box culverts and drainages; civic centres and markets.. The government paid N100 Million counterpart fund  in 2011.
The Fayemi administration provides free and compulsory education at the primary and secondary levels while it reduced fees payable in higher institutions. It consolidated the shambolic higher institutions it inherited for purposes of  better funding and overall  management. They are now well poised to partner with the state government in its development efforts.
The one laptop per student project  has now seen a total of 6,969 laptops distributed to students and 5,031 to teachers in its first phase. The target for 2014 is a laptop for each student, their teachers, as well as the physically challenged students. School bags as well as dictionaries were distributed to the students.
In a massive operation RENOVATE ALL SCHOOLS IN EKITI which will involve 100 schools in the first phase within the next eight weeks and which was flagged off by the governor this past week,  the old, nauseating and decrepit  schools which dotted the educational landscape will give way to glittering schools.
With its scintillating launch of over 7000 school chairs same week, the state SUBEB which is currently building over 100 schools  all over the state has powerfully announced its arrival as a major development arm of the state government.
In the area of industrialization,  the Ire Burnt Brick Industry, the Ikun Diary Farm,  ROMACO, a Quarry company located at Igbemo, are all being resuscitated. The Fountain Solid Minerals Company recently established by the governor to explore our mineral resources for maximum economic benefit started mining on July 17, 2012. Exploration of Kaolin has started at Isan Ekiti while that of Aluminum bauxite  has commenced at Orin-Ekiti.
The Ekiti Enterprise Development Agency has attracted several investors to the state. It  recently began a Kero-Direct project which has been dispensing kerosene  to  Ekiti people  at  N50 per litre  instead of the shylocks' N150.
Ekiti National Assembly members have  decided to jointly fund an irrigation project for commercial farming at the Egbe dam. The project is worth N600 million.  For this purpose, the state government has cleared 2,000 hectares of land. This will be given out to youths for commercial farming.
In financial engineering, the e-receipt and biometrics systems introduced by the administration has blocked leakages in the state's  finances  and has seen the Internally Generated Revenue increase  significantly going from 109 million naira in Oct 2010 to 620 million in April 2012.  Though the federal government  is no longer able to  release  statutory allocation to states when due, the Ekiti State government is not owing its workers any salary arrears. I speak here of a work force of 58,000  and a monthly wage bill of N1.5 Billion from a 2.8 Billion.
As a result of all these, the state, under the sterling leadership of governor Kayode Fayemi, was recently described as follows in the current Human Development Report: 'Ekiti State is the most conducive environment to live, for long and healthy living with a life expectancy average of 55 years more than the national life expectancy average of 50 years'. Similarly, the latest MDG Report (2012) circulated by the Federal Ministry of Health scored Ekiti high in healthcare delivery. According to the report, Ekiti has the second lowest infant mortality rate in the country. As a result, the Minister of Health last week commended Ekiti State for doing what no other state is doing on health care in the country. Ekiti is the only state that is doing free health 100 per cent to its pregnant women and covering 45 per cent of the state's population under her free health programme.
It is the only state that has in place, a social security programme by which  it takes care of its elders.
Without a doubt, Governor Fayemi has impacted positively on large areas of the state and by the time on-going projects are concluded, the governor would have more than  firmly planted his feet on the sands of time as the  'primus inter pares' amongst all Ekiti governors.
 By Femi Orebe
This article was first published in The Nation as a two part series on July 22 and July 29, 2012.
Last modified: July 31, 2012