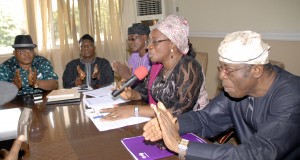 Teachers and pupils of public primary and secondary schools in Ekiti State will resume work on Wednesday, following the suspension of the strike embarked upon by the Nigerian Union of Teachers (NUT) in the state.
The decision of the teachers to  call off their strike followed a peaceful resolution of the impasse between the State Government and the state chapter of NUT over the 27.5 percent Teachers Peculiarity Allowance.
At a meeting chaired by the state Deputy Governor, Professor Modupe Adelabu at the Governor's office on Tuesday, the two parties agreed to a 16 percent Teachers Professional Allowance.
Others at the meeting included the Commissioner for Labour and Productivity, Mr. Oluwole Ariyo, Commissioner for Education,Science and Technology, Mr. Kehinder Ojo; Commissioner for Information and Civic Orientation, Mr Tayo Ekundayo, representatives of the  NUT, NLC and the NJC .
Prof Adelabu  commended the NUT for its understanding and consideration for the government's offer.
She said Governor Kayode Fayemi is very passionate about education which is one of the cardinals of the 8- Point Agenda, as well as the welfare of the state workforce, particularly the teachers who have critical roles to play in restoring the glory of education.
Adelabu also expressed the government's appreciation to the Nigeria Labour Congress, the Joint Negotiation Committee (NJC), for their spirited efforts and to all those who have worked tirelessly on the side of the government for quick resolution of the matter.
While imploring the NUT not to allow such protracted strike action happen in the state again, she gave the assurance that the government will continue to make sure that conducive environment are provided to ensure that nothing disrupts academic session in the state again.
Also speaking, the commissioners for Education, Mr. Ojo appreciated the loyalty, dedication and comportment of the Ekiti teachers before and during the negotiation and solicited for continued support towards the implementation of the 8 Points Agenda, particular Education which they are critical stakeholders.
He also urged teachers to resume work immediately and work conscientiously and diligently to cover the grounds already lost to the industrial action so that government's efforts at bringing back the glory of education in Ekiti will not be a waste.
The Chairman of the Nigeria Union of Teachers in Ekiti State, Mr. Kayode Akosile expressed the union's appreciation to the government, especially for understanding the teacher's plight and for not seeing teachers as working against the government but as making a demand for their legitimate rights.
Mr. Akosile said teacher will suspend the strike immediately based on the 16 percent agreed upon but implored the government to honour its promise to commence the full implementation of the Teachers Peculiarity Allowance as soon as the state's finances improved.
Last modified: July 2, 2013