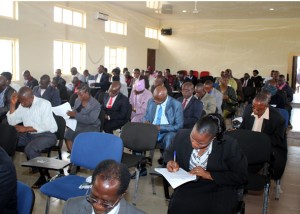 No fewer than 250 Ekiti State civil servants in the Directorate cadre, on Tuesday, sat for the Capacity Assessment Examination aimed at enhancing the capacity of personnel working for the State Government.
The senior workers who are on grade levels 14 to 17 converged on the School of Nursing Ado Ekiti to write the examination which lasted for four hours.
Speaking on Government's intent on the examination, the Permanent Secretary in the Office of Establishment and Trainings, Mr. Lekan Aiyeleso, said the assessment examination was part of the new Civil Service Transformation Strategy of the state government introduced to assess the capacity of officers in respect of service delivery.
While explaining that the assessment is different from promotion examination, the Permanent Secretary allayed fears of retrenchment; saying that the assessment would enable government know the appropriate field where an officer should be posted based on their competence.
"The essence of this one is for government to be able to determine or analyze the personnel in the Directorate level. It will also enable government know the training needs of the workers. This examination has nothing to do with retrenchment and if we all look back, Mr Governor has been saying this consistently since he came on board that he has no intention to retrench any worker except any worker who sends himself or herself out of service", he said.
Aiyeleso disclosed that 275 candidates were registered for the examination but only about 250 sat for it while workers who are due for retirement in the next two months are exempted from the exercise.
Candidates were tested on Civil service rules and regulation, current affairs, use of English and professional questions.
Some of the candidates who spoke to journalists commended Government's initiative geared towards improving the civil service which is the engine room of government.
Mr James Owolabi who is the Director in the Office of Millenium Development Goals (MDG) and an Assistant Director of Civil Engineering in the State, Engineer Adeola Johnson described the examination as the first of its kind in the State adding however that writing examinations was not new to them as they wrote entrance examination before joining the civil service.
The most senior Director in the State who is on grade level 17 and now serves as a Director of Public Health, Dr. Francis Ibikunle described the assessment as an innovation based on merit as people are put in place based on capacity; adding that this will make people to brace up and be conversant with the rules and regulation of the civil service and their various professional fields.
The Director of State Information Services, Mr Kola Ajumobi said: "I found the examination intellectually stimulating and it is a refresher course and it is indeed in furtherance of the compliance of Ekiti State to the national civil service reforms. I am happy to be a part of it". He added.
Last modified: July 5, 2012