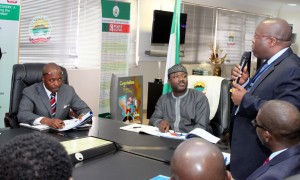 Ekiti State Government and Keystone Bank would soon commence strategic partnership aimed at ensuring rapid development in  key sectors of the state's economy.
The sectors which are in line with the 8-point agenda of the Fayemi-led administration  include Education, health care, industrial development, tourism, women empowerment and agriculture.
Ekiti State Governor, Dr. Kayode Fayemi who received the management team of the Bank led by its Managing Director, Mr Oti Ikomi, in Ado-Ekiti on Friday said his administration was passionate about making fundamental difference in the lives of Ekiti people and would leave no stone unturned in ensuring that his vision for the state is accomplished.
Fayemi said though many people believed that Ekiti was a poor state, the greatest asset the state has  was its human capital resources, adding that he has tailored the 8-point agenda to focus on developing the resources to bring great benefit to the state.
The Governor highlighted the 8-point agenda which he described as a roadmap for turning the state to a choice destination for investors.
While disclosing the latest development on the conversion of the present Governor's office, originally designed to be a hotel, to a three star hotel, the Governor said that two investors have shown interest in managing the proposed hotel which is hoped to address inadequate hotel facilities in the state.
Fayemi added that Ikogosi resort would be fully ready by October this year, even as rehabilitation works are on-going at the wonder spring. He added that in the agric sector, government was planning a one-product per local government policy in its agro-allied sector and would want the bank to partner with it in such area.
Earlier, the Managing Director of the Bank, Mr. Oti Ikomi had commended the Dr. Fayemi-led administration for on-going infrastructural development drive in the state as well as increasing the state's Internally Generated Revenue by over 400 per cent.
Nkom said the bank was convinced that Ekiti State was a model for how development can be actively transformed in Nigeria adding that the proposed partnership would bring about development in the state.          
The Keystone's chief executive urged the state government to take advantage of some of the bank's products and services, including workers loans and special savings.
Last modified: March 12, 2012