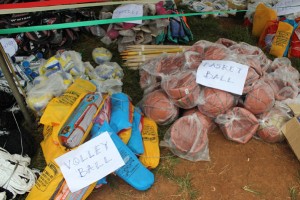 Ekiti State Government on Monday, distributed sports equipment worth N8 million to 183 Secondary Schools across the State as part to efforts geared towards reviving  schools sports through which talents would be discovered  at the grassroots.
Speaking at the event, the Governor, Dr Kayode Fayemi said the gesture was to create a conducive avenue to discover talents in sports, even as he added that his administration is placing emphasis on sports development at primary and secondary school levels.
Dr. Fayemi who was represented by the Secretary to the State Government, Dr. Ganiyu Owolabi, stated that the attention of the Education and Human Capital Development agenda of his administration would not stop at the distribution of the sports equipment but would also ensure the establishment of a Sports Academy to nurture any talent discovered at the primary and secondary school levels.
It is noteworthy that Ekiti State has produced famous sportsmen including the late Oluyemi Kayode, Olusoji Fasuba, Damola Osayomi and Super Eagles' player Seyi Olofinjana among others.
The Governor explained that there is need for people to see sports as a veritable tool for wealth creation hence government's decision to create a channel for youths to maximise their potential; adding that education should not be for learning alone but also for enlightenment and enterprise.
Fayemi however cautioned the benefittting schools against poor handling of the sports equipment; saying that government's huge investment on the equipment should not be allowed to waste.
In her remarks, the State Commissioner for Education, Science and Technology, Dr Eniola Ajayi said the contribution of sports to the development of education cannot be overemphasized as it contributes to the development of man's physiological being.
Dr. Ajayi lauded the efforts of the Fayemi-led administration in developing and encouraging sports in schools; saying that the gesture has discovered some talents including Tosin Oribamise, a student of Christ's Girls School Ado Ekiti who plays Table Tennis and has been nominated to participate in an International Table Tennis competitions coming up soon in Tunisia.
She added that another athlete in power lifting, Omotayo Ganiyu has also received financial support from Governor Fayemi to study a course of his choice in Cyprus.
The Commissioner added that the State Government would soon begin to put in place sporting facilities in schools which are lacking in such facilities.
Sports equipment distributed include those for Cricket, Volleyball, Basketball, Table Tennis, Badminton, Handball, Hockey, Football and  training shoes among others.
Last modified: July 30, 2012