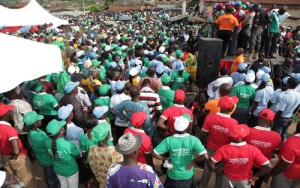 Hundreds of members of the Peoples Democratic Party and the Labour Party in Okemesi, Ido Ile, and Aramoko Ekiti on Tuesday dumped the parties for the ruling All Progressives congress (APC) ahead of the June 21 gubernatorial election in the State.
The defectors numbering hundreds said they were fascinated by the good works of the Dr Kayode Fayemi administration and the need to dump their former parties which according to them had no meaningful plan for the state.
Leading hundreds of supporters of the Labour Party to the APC in Okemesi Ekiti, the State Youth leader of the LP, Mr Oladunjoye Tope, said he and some other supporters decided to join APC because of the convincing performance of the Dr Kayode Fayemi-led in the State.
Oladunjoye stressed that the brilliant delivery of the dividends of democracy is an evidence that Dr Fayemi is the true promise keeper.
Also joining the APC in Okemesi was a PDP supporter, Mr Adesegun Adetunji Aldo known as Olowojegure. He said his decision to be part of the ruling APC was not unconnected to the secured future for the State which he saw could only be sustained by the APC.
In Ido ile Ekiti, a former Chairman of the Labour Party, Mr Ade Oluwagbami, led scores of other members of the party and some PDP members to join APC. he described his decision as akin to someone in darkness coming to embrace light.
Adetunji added that the fact that no PDP government has been able to complete its tenure is a testimony that the future of the State cannot be entrusted to the PDP.
Meanwhile the State Governor, Dr Fayemi has disclosed that his administration would begin the school feeding programme come September 2014 as a way to  nourish pupils in the State public primary schools.
The Governor added that his government would begin to send teachers abroad for overseas training even as there is partnership with some Universities in South Africa and Canada.
Dr Fayemi stressed that his administration has made meaningful impacts in all sectors of the State and promised to continue with the "good works" if re-elected.
He assured that government would also complete all ongoing road projects including Okemesi-Ido Ile road.
In his remarks, the Owa Ooye of Okemesi, Oba Gbadebo Adedeji said the governor's re-election support is as a result of the visible works he has done in the last 3 years.
The monarch who attested that the governor has been tested and has passed in virtually all sectors of the State said his support for Fayemi is not partisan but based on the truth of performance.
In all the communities visited the campaign  rallies were turned into carnivals with several groups dancing and singing in praise of Fayemi's achievements
Last modified: April 16, 2014