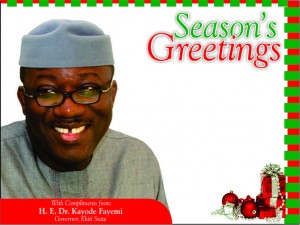 Ekiti State Governor, Dr. Kayode Fayemi, has described the birth of the Lord Jesus Christ as the climax of God's love for mankind.
The Governor in his Christmas message to the people of the state said God used the birth of Christ to ensure the salvation of man from sin and rescue man from eternal perdition.
In a statement by his Chief Press Secretary, Mr. Olayinka Oyebode, the Governor urged the people of the state to emulate God's love by showing love to fellow citizens regardless of their religious belief.
The Governor advised Ekiti people especially Christians to spend the Christmas season in sober reflection and self examination of their relationship with their Creator.
While urging Christians to learn the lesson of humility as demonstrated in the birth of Jesus, Governor Fayemi noted that the birth of the King of kings and Lord of lords in a manger demonstrated uncommon humility.
The Governor admonished them to use the season to share love and lend a helping hand to others most especially the less privileged.
Describing this Christmas celebration as the last one to be celebrated before the 2014 governorship election, Governor Fayemi urged the people of the state to pray for a peaceful and successful conduct of next year's polls.
He reiterated the readiness of his administration to continue to ensure peaceful coexistence of adherents of all religions in the state and offer them conducive atmosphere to practise their faiths.
Last modified: December 24, 2013