Ekiti State Governor, Dr. Kayode Fayemi, has urged Christians to continue to pursue love, tolerance and peace with adherents of other religions in this yuletide season and throughout the new  year.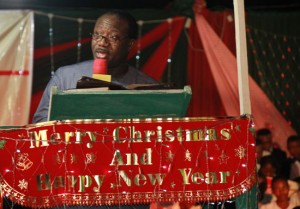 The Governor, in a Christmas message signed by his Chief Press secretary, Mr. Olayinka Oyebode, said that God used the birth of Jesus Christ to pass the message of peace and love to the world.
He noted that being alive to witness another Christmas is a privilege judging by the prevailing circumstances in the nation in particular and the world at large. This, he said , calls for celebration.
Fayemi, however  advised Christians to celebrate in moderation and to devote much time to appreciate God for His mercies and to reflect on ways to dedicate their lives to the service of God and humanity.
He pointed out that the festive period should be celebrated moderately and be better used to pray for peace, development, unity and prosperity of the nation.
The governor further urged the people of Ekiti State to pray for his administration to succeed in the implementation of its eight-point agenda in order to take the state to greater heights in key sectors.
While noting that Jesus Christ lived up to his appellation as the "Prince of Peace", Fayemi called on Nigerians irrespective of their religious affiliations to tow the line of peace which the country needs presently.
He also charged them to learn lessons of humility from the Christmas story which God passed by making the King of kings and the Saviour of the world to be born in a very lowly place.
He said, "God has used Christmas to teach us the lessons of humility and that He has the power to do all things.
"For the King of kings and the Lord of lords to be born in a manger, a place of abode for livestock, is a great mystery, and a lesson in humility." He said, adding that  "The birth of Jesus Christ has made the salvation and redemption of man to be possible and this is the greatest gift of God to mankind."
"God is in control of the affairs of Ekiti and this state is already heading for the Promised Land judging by all indices of development and we crave the prayers of our people to ensure the completion of this onerous task".
Last modified: December 25, 2012